15 Hezbollah fighters killed in Ghouta, Damascus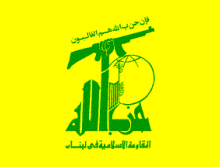 15 Hezbollah fighters were killed and 7 were wounded in clashes Ghouta, Damascus, Syria activists reported on Saturday.
Thousands of Hezbollah fighters are fighting alongside the forces loyal to president Assad against the Syrian rebels who are seeking to overthrow the 40 year old regime despite the Baabda agreement that calls for distancing Lebanon from regional and international conflicts.
The Hezbollah fighters have been instrumental in the regime's control of Syria's strategic town of al-Qusayr several months ago. Hezbollah continues to fight alongside Assad's troops in several hotspots.
U.N. under secretary general for political affairs, has Hezbollah members who are fighting in Syria as "mercenaries," saying they have contributed to the rising sectarian tensions linked to Syria's war.
"Hezbollah's role inside Syria, which is a violation of their own national government's policy of disassociation, has been part of the fuel of the rising sectarian tensions that characterize this conflict,"Jeffrey Feltman, told al-Hayat daily in an interview published on Friday.