U.N. special envoy warns that Lebanon is in danger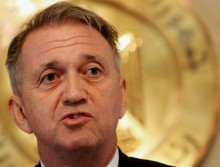 Terje Roed-Larsen, U.N. Special Envoy for the implementation of United Nations Security Council Resolution 1559, warned Thursday that Lebanon is facing the most dangerous situation in its history since the end of the 1975-1990 Civil War.
"Lebanon today is facing the most dangerous situation in its history after the end of the civil war," Kuwaiti's KUNA news agency quoted the UN envoy as telling reporters on Thursday , according to a report by NOW.

The UN envoy's comments come after Prince Turki Al-Faisal Al-Saud, chairman of the King Faisal Center for Research and Islamic Studies and former director-general of the Kingdom's General Intelligence Directorate warned on Wednesday that Lebanon was on the brink of a civil war and blamed Hezbollah for the current situation in Lebanon and neighboring Syria.
The party "is willing to risk the foundations on which the entire Lebanese political system was built in order to prevent the collapse of Syrian President Bashar Assad's regime and impede the work of the Special Tribunal for Lebanon that is probing the assassination of former premier Rafik Hariri," Prince Turki said.
"Saudi Arabia believes that law and order need to be imposed in Lebanon and it supports all efforts aimed at putting an end to Hezbollah's intervention in Syria and bringing its leaders who are suspected of being involved in the Hariri murder to court," the prince added.
According to local reports the Syrian regime backed by Hezbollah fighters are poised to launch an offensive in the Al-Qalamoun region of Syria along Lebanon's eastern Beqaa and this anticipated battle will have significant repercussions on Lebanon's security.
A source from the Free Syrian Army told As Safir , a pro-Syrian regime daily that the repercussions "will not be restricted to the usual security threats," but will rather include a wide deployment of Syrian rebels in Lebanese towns.