7 killed, 50 wounded in Tripoli , Lebanon clashes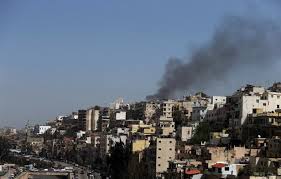 Clashes between gunmen of rival Lebanese sects in the northern city of Tripoli have killed seven people since clashes flared earlier this week, security officials said Thursday.
The latest round of fighting that began four days ago in Lebanon's second largest city has wounded another 50 people,
officials said. That comes as disputes from neighboring Syria's civil war frequently inflame sectarian grievances in Tripoli.
The clashes pit gunmen from two impoverished Tripoli neighborhoods against each other, areas that are home to opponents and supporters of Syrian President Bashar Assad.
The Bab Tabbaneh district is largely Sunni Muslim, like Syria's rebels. The other neighborhood, Jabal Mohsen, mostly has residents of Assad's Alawite sect, a Shiite Islam offshoot.
Security officials said the latest victim, a 57-year-old man from Jabal Mohsen, died from gunshot wounds sustained earlier Thursday.
The neighborhoods have been at odds for decades, but skirmishes began to flare with increasing intensity after the Syrian uprising began three years ago.
The latest bout of fighting began building after Oct. 14, when a Lebanese military prosecutor pressed charges against earlier this month against seven men, at least one whom from Jabal Mohsen, for their involvement in twin bomb blasts near two Sunni mosques in Tripoli on Aug. 23 that killed 47 people.
Five other suspects were charged in late August.
The clashes underscore how deeply intertwined the fates of Syria and Lebanon are.
Syria's civil war has cleaved along the country's sectarian lines. Majority Sunni Muslims dominate the revolt, which began in March 2011, while Christians and other Muslim sects have stood largely with Assad's government.
Lebanon shares its northern and eastern border with Syria. Lebanon's Sunni leadership has mostly supported rebels, while Alawites and Shiites have tied their fate to the Assad government. All sides have sent fighters to battle on either side of the Syrian war.
Meanwhile, in the eastern Bekaa valley, Lebanese soldiers shot and killed two Syrian gunmen in a firefight Thursday after they refused to halt their vehicle, security officials said.
The security officials spoke on condition of anonymity as they were not authorized to publicly brief to journalists.
Disband ADP
Salafist cleric Sheikh Salem al-Rafehi on Thursday slammed the state for failing to stop the violence in Tripoli, accusing Jabal Mohsen's Arab Democratic Party ( ADP) of starting the new round of fighting in the city.
"Tripoli is being shelled since four days at the hands of a criminal party despite the presence of the security plan," Rafehi said following a meeting for clerics and leaders of Bab al-Tabbaneh's fighting frontiers.
The cleric called on the state to "disband" the Arab Democratic Party, the main political and armed force in Jabal Mohsen, saying its officials must be "put on trial" after "members of it" were accused of deadly bombings that hit two mosques in the city.
Washington Post/AP/agencies