Syria frees 10 women as part of 3-way hostage swap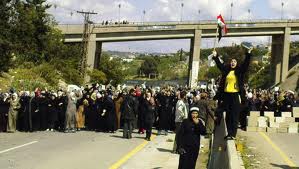 Syrian authorities have released 10 women jailed for helping the opposition, the first batch of 126 women expected to be freed in the final stages of a three-way hostage swap, activists said on Wednesday.
The women's release was the main demand of kidnappers in northern Syria who had held nine Lebanese men hostage for 17 months. Those hostages and two Turkish pilots abducted in Lebanon were freed last week under a deal negotiated by Qatar.
"They (the 10 women) were released overnight. We do not know if more will be released today or later, or if that is it. We are waiting," said a Syrian human rights activist.
Syria has made no official comment about the release, nor has it acknowledged having any role in a hostage exchange deal.
The Syrian Observatory for Human Rights, a pro-opposition monitoring group, said Damascus had released dozens of prisoners last week, who also may have been part of the deal.
Syrian rebels kidnapped the Lebanese men in May 2012, accusing them of belonging to Hezbollah, whose militants are fighting alongside Assad's forces in Syria. The men's families say they were pilgrims who had been on their way home from visiting Shi'ite shrines in Iran.
The Turkish pilots were abducted by relatives of the Lebanese hostages to put pressure on a country they believe holds sway with the opposition. Turkey hosts many opposition groups and has generally kept its border open to the rebels.
The long deadlock in hostage negotiations was finally broken by a new push from Turkey and Qatar, whose officials acted as mediators to the final deal.
Little information has emerged about the women prisoners now being released or when they were originally detained. But they are believed to be those whose release Syrian rebels had originally demanded as the price for freeing the Lebanese hostages.
Tens of thousands of people are being detained by the Syrian regime, many of them without trial, activists say. Rights groups say torture and ill-treatment are systematic in Syria's jails.
Reuters/Al Jazeera
Photo: Women hold an anti-government demonstration in Banias, Syria, Wednesday, April 13, 2011.