Lebanon's PMD Tammam Salam discharged from hospital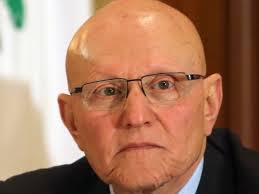 Prime Minister-designate Tammam Salam was discharged from the American University of Beirut Medical Center on Monday , a day after he was admitted for treatment of a stomach virus, National News Agency reported.
Salam thanked all those who called him and visited him to inquire about his health, including President Michel Suleiman, Speaker Nabih Berri, Caretaker Premier Najib Mikati and former PM Saad Hariri.
Radio Voice of Lebanon (100.5) revealed that Salam, 68, had fainted Sunday when he was offering condolences at a residence in Verdun and was immediately transferred to the American University Hospital in the Hamra district of Beirut.
Salam canceled all his appointments for the next couple of days in order to rest at his house, NNA said.