Car bomb explodes on edge Hama, Syria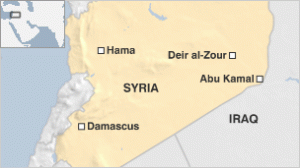 The Syrian state news agency says a car bomb has exploded on the edge of the central city of Hama, causing casualties.
SANA said the explosion occurred early Sunday, but provided no further details.
The British-based Syrian Observatory for Human Rights said the explosion appeared to target a government checkpoint on a highway close to the city. The Observatory, which has a network of activists on the ground, said ambulances were racing to the scene.
Car bombs are most frequently used by hard-line al-Qaeda-linked militants fighting among the rebels.
Associated Press