80 injured when train crashes in Buenos Aires, Argentine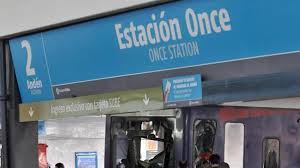 A commuter train in the Argentine capital, Buenos Aires, has crashed at the end of the line, leaving at least 80 people injured.
The train failed to stop as it arrived at Once station, crashing through the buffers and ending up wedged between the floor and ceiling of the platform.
The accident happened at the same station where 51 people were killed in a similar crash last year.
The cause of the accident remains unclear.
Saturday's crash happened shortly after 07:00 local time (10:00 GMT).
The line from Moreno 40km (25 miles) west of Buenos Aires to Once station, operated by the Sarmiento train company, is normally a busy commuter line during the week, and its trains are usually packed with passengers.
Security Secretary Sergio Berni said some of those injured on Saturday had been waiting on the platform and were hurt by flying glass as the train's windows shattered.
Jorge Ramirez, a chef who got on the train nine stations before the end of the line, told the AP news agency the accident was "a tragedy".
"I saw people hurt, shouting, others thrown on the floor. The people in the first wagon ended up piled on top of each other," he said.
After the 2012 crash, the authorities revoked a local company's right to operate trains on the line and pledged to make new investments in safety.
But commuters complain of frequent delays and bad service, and it is not uncommon to see travellers crammed into trains on their way to work, says the BBC's Ignacio de los Reyes in Buenos Aires.
BBC