The kidnapped Lebanese pilgrims are on their way home- updates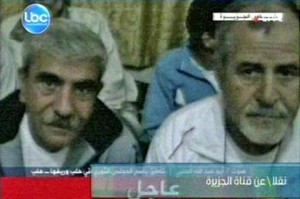 The nine Lebanese Shiite pilgrims kidnapped in Syria were released Friday and are on their way to Turkey, caretaker Interior Minister Marwan Charbel told Voice of Lebanon.
Earlier this evening Qatar took credit for their release . Qatar's foreign minister issued a statement in which it said : "The Qatari mediation has led to the release of the nine Lebanese hostages who were abducted in Syria."
LBCI reported that : General Security chief Maj. Gen. Abbas Ibrahim who was earlier in damascus to discuss with his Syrian counterpart General Ali Mamlouk the release of the nine Lebanese pilgrims, is now in Turkey and is waiting for the abductees to cross the (Syrian-Turkish) border.
Al-Mayadeen quote Lebanese sources as saying : The Azaz abductees will arrive in Lebanon within 24-48 hours.
Eleven Lebanese pilgrims were kidnapped in Syria's Aleppo region in May 2012 on their way back to Lebanon from Iran .
Two of them have since been released.
The abductors were demanding the release of 282 women detainees in Syrian prisons in exchange for the 9 Lebanese pilgrims.
Update 1: A Qatar delegation and Ibrahim are waiting in Turkey for the arrival of the pilgrims
Update 2: Ibrahim told Al Jazeera that the Lebanese pilgrims have arrived in Turkey
Update 3: Caretaker PM Najib Mikati congratulated the released pilgrims and said he is awaiting their return to Lebanon.
Update 4: Ibrahim said  there is no link between the release of the Lebanese hostages and the two  kidnapped Turkish pilots
Update 5: Turkish Pm Erdogan said there is positive development regarding  the two  kidnapped Turkish pilots