Obama to meet with Iraqi PM at the White House Nov.1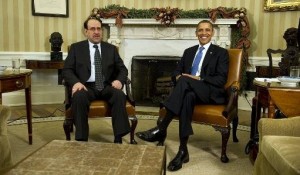 President Barack Obama will meet with Iraq's Prime Minister Nuri al-Maliki at the White House on November 1, the White House said on Wednesday.
The meeting comes amid a rising spiral in sectarian violence in Iraq inflamed by the civil war in neighboring Syria.
The violence has killed more than 6,000 people in Iraq this year.
Reuters
Photo: President Barack Obama with Iraq's Prime Minister Nuri al-Maliki at the White House on Dec 12, 2011