Upbeat mood as Iran nuclear talks start in Geneva
World powers and Iran have expressed "cautious optimism" at the start of their first nuclear talks since Hassan Rouhani became Iran's president.
A EU spokesman said the Iranian team had put forward proposals at the start of two days of discussions in Geneva.
Mr Rouhani, who was elected in August and is seen as a relative moderate, has said he wants a deal within six months.
The West suspects Iran of seeking a nuclear arms capability. Tehran denies this, saying its programme is peaceful.
'Resolution path'
Michael Mann, a spokesman for EU foreign policy chief Catherine Ashton, told reporters that Iranian officials had presented their proposal in PowerPoint format, but gave no details.
He said there was a sense of "cautious optimism" as the closed-door talks began on Tuesday.
Iran's Deputy Foreign Minister Abbas Araqchi used the same phrase in an interview with Reuters news agency.
The Iranian state-run Irinn news channel said Tehran was offering to reduce its level of uranium enrichment – a key UN demand.
The Iranian team is led by Foreign Minister Mohammad Javad Zarif, although much of the actual negotiating is expected to be delegated to Mr Araqchi .
The discussions bring together Iran officials and representatives of the "P5+1 group", made up of Britain, China, France, Russia and the US plus Germany.
In a Facebook entry posted at the weekend, Mr Zarif said the talks were the "start of a difficult and relatively time-consuming way forward".
"I am hopeful that by Wednesday we can reach agreement on a roadmap to find a path towards resolution," he added.
International negotiators want Tehran to take specific steps to prevent it from ever being able to make nuclear weapons, the BBC's James Reynolds in Geneva reports.
In return, they promise to lift some of the international sanctions which have been imposed in recent years.
However, the West has hinted that it will be difficult to clinch a deal in just two days of talks.
"No-one should expect a breakthrough overnight," said a senior US official, speaking on condition of anonymity.
Uranium pledge
Western nations have demanded that Iran halt the production and stockpiling of uranium enriched to 20% – a step away from achieving a nuclear weapons capability.
They also want Iran to send some of its stockpiles abroad, and shut down the Fordo production site, near Qom, where most of the higher-grade enrichment work is done.
Since 2006 the UN Security Council has imposed a series of sanctions – including asset freezes and travel bans – on entities and people involved in Iran's nuclear programme.
Separate US and the European Union sanctions have targeted Iran's energy and banking sectors, crippling its oil-based economy.
Iran wants the sanctions lifted.
Mr Araqchi insisted on Sunday that there could be no question of Iran relinquishing its stockpiles of enriched uranium.
"We will not allow even a gram of uranium to go out of the country," he said in comments quoted on the website of Iranian state TV.
On Monday, Israeli Prime Minister Benjamin Netanyahu said it would be wrong to ease pressure on Tehran.
He told MPs that any move to let up on the Iranian government would only strengthen its "uncompromising elements", and Supreme Leader Ayatollah Ali Khamenei "will be perceived as the winner".
In reference to the current sanctions, he said it would be "a historical mistake" to lift them.
But in the US – which has also shown a tough stance against lifting sanctions on Iran – nine leading senators said they were open to the idea of suspending new sanctions if Tehran took significant steps to slow its nuclear programme.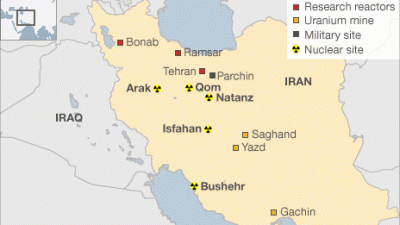 BBC
Top photo: EU foreign affairs chief Catherine Ashton and her Iranian counterpart Mohammad Javad Zarif shared a light moment as the talks began