Iraq blast hits Sunni mosque in Kirkuk on Eid al-Adha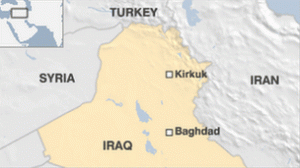 A bomb blast outside a Sunni mosque in the northern Iraqi city of Kirkuk has killed 12 people, police say.
They say the explosion occurred after prayers marking the start of the Muslim holiday of Eid al-Adha. At least 24 people were wounded.
Militants have targeted both Sunni and Shia worshippers in a wave of sectarian violence that has surged across Iraq in recent months.
Almost 6,000 people have been killed so far this year.
Oil-rich Kirkuk – home to a mixture of Arabs, Kurds and Turkmen – is one of Iraq's most bitterly contested areas.
Tuesday's explosion struck worshippers as they were leaving the Qodus mosque after morning prayers.
"Our security forces have taken all the necessary measures within our capabilities…, but unfortunately terrorists were able to penetrate the city and strike innocent people once again," Kirkuk provincial police chief, Brig Gen Jamal Tahir Bakir told AP.
Eid al-Adha, which marks Abraham's willingness to sacrifice his son to submit to God, is one of the most important Muslim holidays of the year.
It marks the end of the annual Hajj pilgrimage in Mecca.
This year's rise in sectarian violence began after the army raided a camp set up by Sunni Arab protesters near the northern town of Hawija in April.
The protesters were calling for the resignation of Shia Prime Minister Nouri Maliki, whom they accuse of targeting the minority Sunni community.
The country has also seen a spillover of violence from the conflict in Syria, where jihadist rebels have links with the Islamic State of Iraq, a Sunni militant umbrella group.
BBC