Turkey PM Erdogan calls Assad a terrorist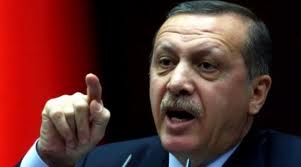 Turkey's prime minister criticized U.S. Secretary of State John Kerry for praising Syrian President Bashar Assad for agreeing to destroy his chemical weapons.
Turkish Prime Minister Recep Tayyip Erdogan told reporters in Ankara he could not believe Kerry would praise Assad for complying with the U.N. resolution calling for destruction of Syria's chemical weapons stockpile.
Erodgan Monday called Assad "a terrorist who has killed 110,000 people of his own country," Today's Zaman reported.
"It does not matter if these people were killed with chemical weapons or with other weapons. In the end they were killed," Erdogan said.
"I do not recognize Assad as a politician anymore. He is a terrorist who kills with his state terrorism."
Kerry, attending an Asia-Pacific summit in Bali, Indonesia, told Russian Foreign Minister Sergei Lavrov it is "extremely significant that yesterday, Sunday, within a week of the resolution being passed, some chemical weapons were already being destroyed," Today's Zaman reported
"I think it's also a credit to the Assad regime for complying rapidly, as they are supposed to," Kerry said. "It is a good beginning, and we should welcome a good beginning."
US: Assad must step down
But the U.S. government said Monday its position that Syrian President Bashar al-Assad must step down has not changed despite Secretary of State John Kerry's positive remarks on Syria's cooperation on destroying its chemical weapons.
"Our position on him is the same, that he's lost all legitimacy to lead Syria, that we're working toward a Geneva II conference that gets us to a place where both sides, by mutual consent, pick the transitional leadership of Syria," State Department deputy spokeswoman Marie Harf told a regular news briefing.
She was responding a query about Kerry's remarks in Indonesia that he was "appreciative for" the Russian cooperation and obviously for the Syrian compliance with the UN resolution by starting to destroy Syria's chemical weapons.
Harf said that it was clear the Syrian opposition will not allow Assad to continue its rule. She added that U.S. Ambassador to Syria Robert Ford held a "very productive" meeting over the weekend with the Syrian opposition in Istanbul, Turkey, including rebel commander Salim Idris.
UPI/Xinhua