Lebanon speaker lauds Iranian-Saudi Rapprochement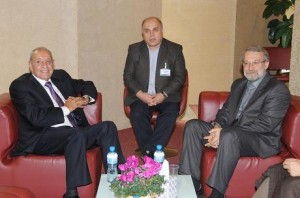 Lebanon Parliament Speaker Nabih Berri said Tuesday that an improvement in the Iranian-Saudi relations will positively affect the Middle Eastern region.
"The Iranian-Saudi rapprochement will lead to breakthroughs in the Syrian crisis, in Lebanon and in Iraq," the National News Agency quoted Berri as saying on Tuesday following a meeting with his Iranian counterpart Ali Larijani at the sidelines of the Inter-Parliamentary Union's 129th General Assembly session in Geneva which kicked off Monday.
Iranian President Hassan Rouhani's visit to Saudi Arabia early this month was delayed, but Iranian Ambassador to Lebanon Ghazanfar Ruknabadi sought to play it down and predicted a thaw in Saudi-Iranian ties.
Last month, Rowhani said that "a key aspect" of his "commitment to constructive interaction entails a sincere effort to engage with neighbors."
He called for closer ties with Saudi Arabia, hailing the kingdom as a "friend and brother" of Iran," state-sponsored Tasnim News Agency reported.
Saudi Foreign Minister Prince Saud al-Faisal said last Friday that the kingdom welcomes Iranian statements for openness toward the Gulf, but that concrete measures on the part of Tehran are what will be considered.
Berri also stressed the importance of a "political solution" for ending the Syrian civil war that has been raging for over two years.
Larijani echoed Berri's remarks, and noted that "the world has reached the conviction that a peaceful political solution is the [only] solution for Syria."
commenting on the crisis of the increasing influx of Syrian refugees into the country, Larijani stressed that Lebanon's potential "is enormous thanks to its people and its resistance against Israel."
"We always bet on Lebanon during the developments in the region and we are always beside the Lebanese people," he added. "We will certainly exert maximum efforts to help Lebanon deal with this issue."
Lebanon has been facing difficulties dealing with the increasingly high number of refugees fleeing Syria's violent uprising against the regime of President Bashar al-Assad.
The United Nations' refugee agency announced on Saturday that the number of Syrians receiving aid in Lebanon from the U.N. agency and its partners has reached 779,000, noting that 678100 of them are officially registered while 101000 are awaiting to be enlisted.
The Lebanese government puts the number of Syrians in the country at 1.3 million, though that figure includes Syrians who were already in the country when the conflict began 31 months ago.
More than 115,000 people have been killed since the uprising against the Syrian regime started in March 2011. Two million people have become refugees and millions more have been displaced inside Syria.