Tripoli's Mufti Shaar to return to Lebanon before the Eid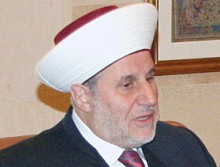 The mufti of the Lebanese city of Tripoli will return from Paris to Lebanon on Wednesday after having spent nearly a year abroad following security threats against his life, As-Safir newspaper reported Tuesday.
Sheikh Malek al-Shaar will head to Tripoli right after he arrives in Beirut's Rafik Hariri International Airport with a high-level security escort, the report added.
According to the report, checkpoints will be erected at Shaar's residence entrance and near the Dar al-Fatwa in Tripoli.
Security forces will also increase the number of security guards tasked to protect Shaar, who will be very cautious with his movements.
As-Safir newspaper contacted the mufti, who confirmed the news of his return. However, the mufti did not give a precise date for his arrival.
"God willing, I will be in Tripoli before Eid al-Adha, and my decision to return is final," Shaar told As-Safir.
Last December, the mufti announced that he had received information that he was under threat of assassination and that he was advised to remain outside the country.
"I have received security warnings and tips not to return to Lebanon" , he said last December after Lebanon Speaker Nabih Berri and caretaker PM Nagib Mikati urged him to return home.
He also confirmed at the time to Kuwaiti newspaper al Seyasseh that he had received warnings from the Lebanese security authorities over his plans to return to Lebanon, asking him to extend his stay abroad and to take the utmost caution.
Mufti Shaar is closely associated with former PM Saad Hariri who has been outside the country for more than two years for security reasons.
Tension in Lebanon escalated following the assassination last October of Lebanese International Security intelligence chief Brig. Gen. Wissam al-Hassan, who was also closely associated with Hariri. Syria and Hezbollah were accused of being behind Hassan's murder.
Hassan was assassinated a day after he secretly returned from Paris.
NOW/ agencies