After years on run, al-Libi was found with family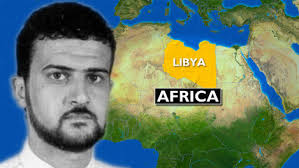 When Delta Force commandos homed in on Nazih Abdul-Hamed al-Ruqai in a neighborhood of Tripoli this weekend, they found him settled with his wife and children in his family's traditional home after nearly three decades on the move.
According to one of his sons, Abdullah al-Ruqai, 20, they were enjoying being in that home together for the first time in their lives, acquainting themselves with uncles, aunts and cousins who all live in the same middle-class neighborhood, Noflieen, in the northeast of this capital city near the sea.
It was a short period of calm for the son after a lifetime of following his father, a native of Libya who pulled his wife, four sons and a daughter through war zones and repeated flight, passing through at least six countries over 20 years. On Saturday, his father, known as Abu Anas al-Libi, was abruptly seized by the United States during a raid in which three vehicles carrying armed men in masks converged on his car, broke the window and hustled him away.
To the United States, Mr. Ruqai is a Qaeda computer expert who helped conduct surveillance on the United States Embassy in Nairobi, Kenya, ahead of the 1998 bombings there and in Tanzania that killed more than 200 people. He was indicted in 2000 in those attacks, as well as for conspiring with Osama bin Laden to attack American forces in Saudi Arabia, Yemen and Somalia. He is now being interrogated while in military custody on a Navy ship in the Mediterranean Sea, officials said.
To his son, he was a fighter with a storied past who tried to provide for and protect his family, despite being exiled from Libya decades ago for his opposition to Col. Muammar el-Qaddafi, suffering police harassment in Britain after seeking asylum there and undergoing years of harsh detention in Iran, an opponent of Al Qaeda, after the Sept. 11, 2001, attacks. Iran, in fact, held the entire family, his son said.
"For the first four years they kept us underground in secret prisons," the younger Mr. Ruqai said in an interview outside the family house on Sunday evening. "We did not see the sun. We all had skin diseases. They played psychological games on us. They told us we would live there for the rest of our lives. But you cannot control people's destinies."
All but his father came back to Tripoli in 2010, living under surveillance and threats from the Qaddafi government. Mr. Ruqai followed in 2011 as the popular uprising began, joining the rebels fighting in the Nafusah Mountains in western Libya. It was a role that came naturally to him.
He had joined the mujahedeen in Afghanistan in the 1980s as a young man. After the war, he was part of a group of fighters from Libya who formed a movement, the Libyan Islamic Fighting Group, to overthrow Colonel Qaddafi. In 1993 he moved to Sudan, where Bin Laden also settled. It was during this period that Mr. Ruqai is suspected of having conducted the reconnaissance on the United States Embassy in Nairobi.
The younger Mr. Ruqai, who was born in Sudan in 1993, said that his father had no choice but to live there. He was exiled from Libya, and Sudan was the only place that would accept the family. When Bin Laden returned to Afghanistan in 1996, his father moved his family to Britain and received asylum as a political dissident. His wife and son say his affiliation with Al Qaeda ended. The family settled in the northern town of Manchester, and Mr. Ruqai worked in a pizza business.
After the 1998 embassy bombings, Mr. Ruqai came under investigation by the British authorities, who found an 18-chapter terrorist training manual in his apartment. In 1999, the family headed to Afghanistan, where the Taliban were in power. They settled in Kabul, but the 2001 terrorist attacks sent them on the move again.
After some months in Pakistan, they headed to Iran. But at the time, Iran was reaching out to the United States and collaborating on intelligence in Afghanistan, leading to the entire family's detention by Iranian intelligence, the son said. Members of Bin Laden's family and others considered possible Qaeda supporters were also detained.
After nearly a decade in Iranian custody, the women and children were eventually allowed to leave, the son said, and their Iranian captors handed them to traffickers who smuggled them into Turkey. "They did not want to show that they had our group in custody," he said. "They handed us to human traffickers and we crossed the mountains on foot, just the women and children. It was very difficult. My sister was just 10 years old."
From there, they returned to Tripoli. Mr. Ruqai's eldest son, Abdul Rahman, followed in his footsteps, joining the rebels. He was killed in 2011, during the fall of Tripoli.
When Mr. Ruqai reunited with his wife and children after Colonel Qaddafi's death, he knew he was still a wanted man, his son said. "He gathered us around and said he suspected that at any moment he would be killed," he recalled. "He tried to raise each of us to be responsible for the family. He taught us to work for our living."
The younger Mr. Ruqai said that he had found a job driving a truck, and that his mother was also working. His grandfather had given them the family house and relatives were helping them, so they were managing, he said. His father had no job but was respected, and consulted to resolve disputes, he said. Known as the Sheik, Mr. Ruqai, 49, could recite the Koran by heart and was regarded as a war hero for fighting in Afghanistan against the Soviets.
"He was known for supporting the freedom of others," the son said. "He was fighting in Afghanistan against injustice, and if there was injustice or disputes over property here, people came to him and he helped with that."
He denied that his father was involved in the 1998 attacks on the United States Embassies in Kenya and Tanzania. He said that the accusations were based on the testimony of one man, whom he identified as Abu Muttalib Maghrebi, and that they were circumstantial. "They do not have any evidence, only the testimony of one man," he said.
He also said his father had no involvement in the 2001 terrorist attacks. "We were far away from that," he said. His father said little about them, he added. "He had no opinion," he said. "It was not related to him. It was not his business."
Mr. Ruqai condemned the attack on the United States diplomatic mission in Benghazi that killed Ambassador J. Christopher Stevens and three others last year, his son said. "If he had anything against the Americans, he would be fighting in Afghanistan," he said. "The Americans just latched on to the name al-Libi and clung to it."
He condemned the sudden seizure of his father on Saturday.
"The way the Americans took him, where is the human rights of that?" he asked, saying his father was carrying none of the family's weapons when he was taken away. "What happened to us is a shame and humiliation both on America and on Libya. They talk of human rights, but it shows their double standards."
Referring to a potential trial of his father in the United States, he said, "If they want him to go on trial it should be here in Libya, because there, everything could be invented."
He consoled himself that his father's religious faith was strong. "It is a source of pride that he kept his religion," he said. "There is an Islamic verse that whoever completes the dawn prayer with a group is in the hands of God."
NY Times