Baghdad hit by wave of deadly car bombs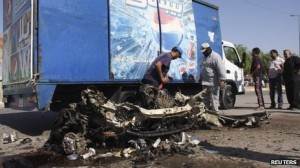 A series of car bomb blasts in the Iraqi capital, Baghdad, has killed at least 36 people and injured more than 100, officials say.
Police say the blasts targeted markets and car parks in mainly Shia Muslim districts of the city.
There has been a recent upsurge in sectarian violence, sparking fears of a return to the bloodletting of 2008.
Between 4,000 and 5,000 people are estimated to have been killed so far this year.
Several dozen people died in a wave of attacks on Sunday, including an explosion at a funeral.
Monday's blasts struck during Baghdad's morning rush hour, with reports of 12 bombs, most of them in Shia neighbourhoods.
One of the deadliest attacks was reported from the eastern Sadr City district where seven people were killed and 75 injured in a crowded vegetable market.
Another six were reported killed in Shuala, a mainly Shia area of north Baghdad.
On Sunday, at least 25 people were killed when a suicide bomber attacked a Shia Muslim mosque south of the city.
Irbil, the normally stable capital of Iraq's autonomous province of Kurdistan, was hit by a series of bombings on the same day, killing six members of the security services. Officials said that violence could be linked to fighting between jihadists and Kurds in Syria.
No-one has claimed responsibility for Monday's attacks, but Sunni Muslim insurgents have been blamed for much of the most recent violence.
The upsurge was triggered in April by an army raid on a Sunni Muslim anti-government protest camp near Hawija, north of Baghdad.
Many in the country's Sunni Muslim minority complain of being excluded from decision-making and abuses by the security forces. Recent raids in Baghdad on suspected al-Qaeda hideouts in mainly Sunni districts are thought to have worsened grievances.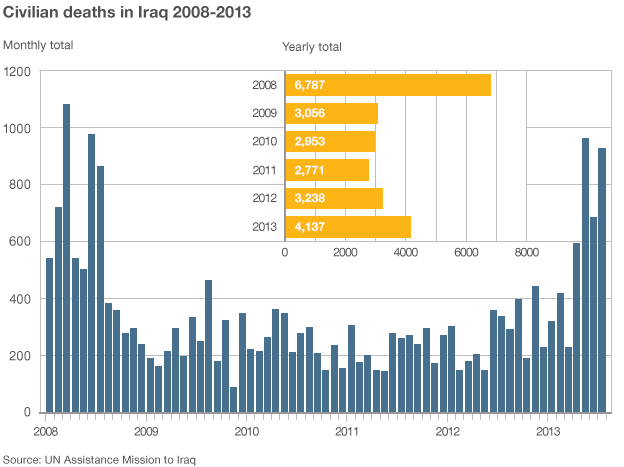 BBC