Charbel: Army took over Hezbollah checkpoints in Baalbeck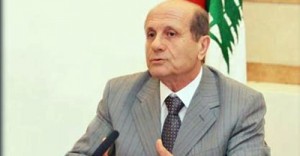 Lebanon Caretaker Interior Minister Marwan Charbel said on Sunday that Hezbollah gunmen withdrew from Baalbek following their deadly clashes with armed members of Sunni families.
"The Lebanese army took charge of all Hezbollah's checkpoints in Baalbek," Charbel told the Voice of Lebanon (93.3) radio station.
The Lebanese Armed Forces announced on Saturday that it "adopted extensive security measures" to end the clashes that pitted Sunni residents with Shiite members of Hezbollah.
It also noted that a soldier was severely wounded during these clashes while he was at his residence.
The Baalbek clashes claimed the lives of four people, including two members of the powerful Shiite Hezbollah militant group . The other 2 that were killed were identified as Ali Mustapha al-Rifai and Ali Sami al-Masri, who was riding a motorcycle at the time he was shot and killed.
The incident was the second this week in Baalbek, a Hezbollah stronghold near the border with Syria and home to the biggest ever temple built by the Romans. Baalbek was known as Heliopolis, which is today a UNESCO World Heritage Site."
Lebanon has been on edge as a result of the civil war in neighboring Syria, with many Lebanese divided between supporters of Presidents Bashar Assad's regime and the opposition.
Lebanese Sunni Muslims back the mostly Sunni rebel movement fighting to topple Assad. Shiites back Assad's regime that is dominated by members of the president's minority Alawite sect — an offshoot of Shiite Islam.
Hezbollah set up checkpoints in its strongholds after an Aug. 15 blast in Beirut's southern suburbs killed 27 people. Many resent the checkpoints.
Following the clashes Hezbollah members set on fire a number of shops in Baalbek's market amid intermittent gunfire, Future TV reported