Lebanon urges Hezbollah to withdraw from Syria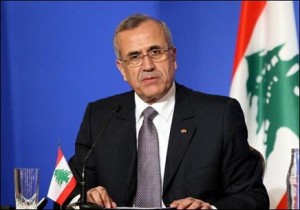 Lebanese President Michel Suleiman urged the Shiite group Hezbollah to withdraw its fighters from Syria to Lebanon, stressing that this is in Lebanon's best interests, Hezbollah own interest and in the interest of all concerned.
"Hezbollah should work on withdrawing its fighters and return them to Lebanon," Suleiman said in an interview with BBC on Friday adding:
"That would be in Lebanon's interests, in its own interest and in the interest of all concerned parties."
Suleiman has been repeatedly calling on all the Lebanese factions to refrain from interfering in the Syrian crisis and has urged all parties to respect the principles of the Baabda Declaration that calls for distancing Lebanon from regional and international conflicts.
The Baabda Declaration is an agreement that was reached between Lebanon's opposing political leaders in 2012 following a round of national dialogue sponsored by the president.
Thousands of Hezbollah fighters are fighting alongside the forces loyal to president Bashar al Assad against the Syrian rebels who are seeking to overthrow the 40 year old regime despite the Baabda agreement.
According to a recent special report by the New Yorker Hezbollah in Syria is acting on orders from Qassem Suleimani, Iran's chief of the Quds force in order to save the Syrian regime from collapsing. Hezbollah was formed as a division of the the Quds force back in 1982.