Putin confident over Syrian chemical arms deal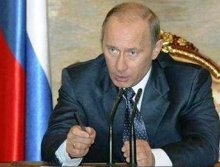 Russian President Vladimir Putin said on Thursday he could not be 100 percent certain that a plan for the destruction of Syrian chemical weapons would be carried out successfully but he saw reason to hope it would.
"Will we be able to accomplish it all? I cannot be 100 percent sure about it," Putin told a gathering of journalists and Russia experts. "But everything we have seen so far in recent days gives us confidence that this will happen … I hope so."
Putin, whose country has been the Syrian government's main ally in the more than two-year-old civil war, said he had strong grounds to believe that an August 21 chemical attack in Syria was staged by opponents of Syrian President Bashar al-Assad.
"We always talk about the responsibility of the Assad government, if he was the one used it (a chemical weapon). What if the opposition used it?," Putin said. "We have every reason to believe it was a cunning provocation."
Russia and the United States brokered a deal last week to put Assad's chemical arms stockpiles under international control to avoid possible U.S. military strikes that Washington said were intended to punish him for the poison gas attack.
But Putin reiterated Moscow view that the methods used to make the chemical weapon used in the attack suggested it was home-made and not a type of armament used by the Syrian army.
Western governments say a U.N. report confirmed Assad's forces were behind the attack in rebel-held areas
Reuters