Funerals for 7 more Hezbollah fighters killed in Syria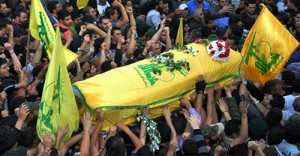 At least seven more Hezbollah fighters were killed in recent fighting with rebels in Syria, well-informed sources told Al-Mustaqbal newspaper.
Several media outfits published the pictures of the deceased Hezbollah fighters and identified them as Zuheir Shawqi Salameh, Youssef Helmi Halawi, Hassan Saleh Mustafa, Ali Nayef Tleiss, Hussein Ghaleb Matar, Hassan Nassereddine and Asaad Ahmad Bazal. All hail from south Lebanon , mainly Nabatiyeh, Marjayoun and Bin Jbeil areas.
Thousands of the Iranian-backed Shiite group's fighters have been supporting the Syrian regime of president Bashar al Assad in his fight against Syrian rebels and were able in June to help the regime win the battle for the Syrian border town of Al-Qusayr, a strategic rebel stronghold linking Damascus to the Mediterranean coast.
Hundreds of Hezbollah fighters that were killed in Syria were brought in caskets for burial in Lebanon.
According to a July report by 'Asharq Alawsat' a delegation of the parents of the Hezbollah fighters that were killed in Syria told the organization that they proudly sent sons to fight Israel, but they consider the defense of Syrian regime "flawed and intolerable."