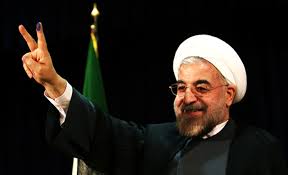 Iran's President Hasan Rouhani says his country will accept anyone as ruler of Syria who is elected by the Syrian people, the official news agency reported Monday.
His remarks carried by IRNA do not signal any change of policy on Syria but mark a shift of emphasis from comments by other Iranian leaders, which have often emphasized Iran's support for its ally, Syrian President Bashar Assad, and blamed the West and Israel for the rebellion against him.
"Whoever Syrian citizens vote for to rule their country, we'll agree with it," Rouhani was quoted as telling commanders of the powerful Revolutionary Guard.
Syria plans a presidential election in 2014, but few in the opposition take the vote seriously or believe it can be held amid the country's civil war.
Opposition groups say they oppose all negotiation with Assad's government unless it is aimed at his giving up power.
Rouhani was elected in June promising a more diplomatic approach to the West in negotiations over its nuclear program, which the U.S. and its allies say is aimed at weapons development. Iran says the program is for peaceful purposes.
The new president has stated however that Iran will not give up its right to disputed nuclear activities, nor has he suggested any major rethinking of Iran's alliance with Damascus. Key nuclear and security matters are under the control of the country's Supreme Leader Ayatollah Ali Khamenei and institutions that answer directly to him, including the Revolutionary Guard.
Syria's opposition says the Guard is directly involved in the war on Assad's side. Iran denies this.
"The Guards do not seek military domination on the region," Rouhani said. "It is mistake by the West that thinks Iran is after military domination on the region."
He called the U.S. military, which has bases in the Persian Gulf, to leave the region. "You, the unsolicited guest in our region, leave the region and then you will see that it will convert to heaven."
In the same meeting, Guard commandxer Gen. Mohammad Ali Jafari said, "So far, the enemies plot for military intervention in Syria has been failed. We are hopeful this will continue until the end."
ABC
This error message is only visible to WordPress admins
Error: No connected account.
Please go to the Instagram Feed settings page to connect an account.