Syrian Christians have passports packed, ready to go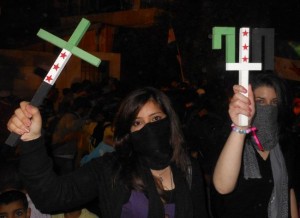 Syrian businessman Gaby Nakazy keeps the family's passports and children's school reports in a bag in the basement of his clothes factory in Jaramana, a mainly Christian and Druze suburb of Damascus.

If Islamist rebels exploit a U.S. attack to advance into their neighborhood, Nakazy will grab the bag and join the 1.2 million Syrians who have fled to Lebanon. At least 450,000 ofSyria's 2 million Christians have been displaced, Gregorios III, Patriarch of the Church of Antioch, said last week.
Syrian army forces load a machine gun mounted at the back of a vehicle in the Syrian Christian town of Maalula on Septamber 7, 2013. Photograph: AFP via Getty Images
"We're worried that the fighters would take advantage of any confusion," Nakazy, 56, said by phone from Jaramana.
As U.S. Congress debates a possible strike against Syrian President Bashar Al-Assad, Christians in and around Damascus say they face a double crisis. Like many other Damascenes, they fear an attack would lead to an escalation in the civil war rather than put an end to it, while they are also concerned about becoming a lightning rod for Muslim radicals.
"Any large-scale rebel offensive in the wake of a U.S.-led campaign could leave the capital's Christian community vulnerable to attacks from Islamist rebel groups at the extreme end of the spectrum," said Torbjorn Soltvedt, an analyst for the region atMaplecroft, a U.K.-based risk consultant.
Village Taken
Christian fears have been heightened in the past few days as rebels led by al-Qaeda-affiliated groups pushed into Maaloula, an ancient village 35 miles (56 kilometers) northeast of Damascus where residents still speak a version of Aramaic, a Biblical language believed to have been used by Jesus.
Bishop George Abu Zakham, speaking from Damascus, said the rebels were inside the village, where Christians make up two thirds of the population. "The presence of extremist groups is very scary," he said on Sept. 6.
Syria's state-run SANA news agency said last night that army units continued pursuing "terrorists" from the al-Qaeda linked Nusra Front in eastern and western Maaloula, "eliminating a number of them."
There were clashes in the vicinity of the village at night, according to Rami Abdurrahman, head of U.K.-based activist group Syrian Observatory for Human Rights. He said there are reports of 16 dead among residents who took up arms to fight the rebels since the violence there started last week. The group has authenticated five of those deaths, he said.
Worrying Reminder
Salim Eid, a Christian who lives in an area of Homs under the control of Assad's army, said the events in Maaloula reminded him of how his brother and other family members were forced by the rebels to vacate their homes and farms in Umm Sharshouh village in Homs Province earlier this year.
"We're worried about Damascus too because of what we have lived through," Eid, 55, said by telephone. "We are the weakest link and that's who those gunmen are going after."
Syria's government has said the attacks against Christians are part of the wider fight it is waging against Sunni Muslim extremists. The National Coalition, the main political opposition, accused the government of committing the atrocities and said the rebel Free Syrian Army formed a unit to protect the people and holy places of Maaloula.
The government is trying to give the impression the rebels are "ferocious monsters that want to devour minorities," the coalition said in a Sept. 8 statement.
U.S. Lobby
The coalition has also dispatched two of its senior Christian members to Washington to reassure the U.S. that Christians are not in any danger as Congress debates military action, said Samir Nashar, a member of the coalition.
"The regime wants to portray what's happening as a revolution of extremists and not a freedom-seeking uprising," Nashar said by telephone from Turkey yesterday.
The government is trying to give the impression the rebels are "ferocious monsters that want to devour minorities," the coalition said in a Sept. 8 statement. "The regime wants to portray what's happening as a revolution of extremists and not a freedom-seeking uprising," Samir Nashar , a member of the National Coalition, the main Syrian political opposition said by telephone from Turkey yesterday.
Senator Rand Paul said on NBC's "Meet the Press" on Sept. 1 that Assad has protected Christians for decades.
"The Islamic rebels winning is a bad idea for the Christians, and all of a sudden we'll have another Islamic state where Christians are persecuted," said Paul, a republican who sits on the Senate Foreign Relations Committee.
Obama will make his case for military strikes in a nationally televised address this evening, while Syrian ally Russia proposed a diplomatic solution by getting Assad's government to surrender its chemical weapons.
Sunni Majority
Assad's opponents are mostly Sunni Muslims, a 74 percent majority in Syria, according to the CIA World Factbook. Assad is an Alawite, an offshoot of Shiite Islam, which along with other minority Muslims, including Druze, makes up 16 percent of the population, according to the Factbook.
Christians "are right in their fears because under the present order, it was authoritarian but it was secular," said Kamran Bokhari, vice-president for Middle Eastern affairs at the Austin, Texas-based consulting firm Stratfor. "We're moving away from the order that we know to the unknown. The best we know about the unknown is that it will be dominated by a litany of forces that are radical Islamists."
While parts of the Christian community have supported Assad's government with others joining the rebels, they have "to a great extent sought to avoid taking sides in the conflict," Soltvedt said.
In Egypt, dozens of Christian buildings and churches were attacked last month as the country erupted in renewed violence following the deposing of the Islamist-backed President Mohamed Mursi. Copts, the main Christian group, said the attacks were revenge for Christians supporting Mursi's ouster.
Christian Evictions
Abu Zakham, the bishop, said he was kicked out of his home in the city of Homs last year along with about 85,000 Christians by extremist rebels. He said Christians in suburbs around Damascus were also displaced in the same way.
"There is a plan to displace Christians," he said from Damascus. "Why, we don't know."
Their immediate future hinges on what happens to Assad's forces should Obama follow through on his plan for a limited attack in response to an Aug. 21 chemical weapons attack.
If the bombing campaign is limited "and the regime doesn't lose a whole lot, then the Christians will say it's still safe to be with the regime," said Bokhari, the analyst at Stratfor. If the missiles "weaken the regime, then the Christians will be in a really, really tough spot," he said.
In Jaramana, Nakazy said he and his family are waiting for events to unfold. He is determined to lead as normal a life as possible until the strike occurs. His factory is still producing maternity wear and he still goes to work.
"We can't afford to go to Beirut now or cower on a farm somewhere," he said. "We're all sticking to each other here and I hope that will make this place the safest in the world."
bloomberg