Obama gears up for all-out push on Syria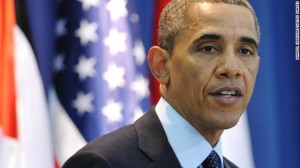 Washington deepened its diplomatic offensive at home and abroad Sunday as President Barack Obama braced for a key week in his push to persuade skeptical Americans to back strikes against the Syrian regime.
Lawmakers returning Monday from their summer break are set to begin debate on whether to approve limited US military action in Syria, with a Senate vote possibly coming as early as Wednesday.
Obama will blitz US networks on Monday evening before addressing the American people from the Oval Office on Tuesday aiming to lay out the case to deepen US involvement in a two-year-old war that has claimed more than 100,000 lives.
President Bashar al-Assad was also to take to the US airwaves to deny he ordered a suspected chemical attack on his people last month, which has shocked the world and galvanized the Obama administration into preparing for its first military foray into the brutal conflict.
In a rare interview with a US network, Assad insisted he was not behind the August 21 gas attack on a Damascus suburb, and issued a veiled warning to the American people not to become militarily involved in the rebellion against him that erupted in March 2011.
The long-time Syrian leader warned that as his country prepares "as best we can" for US military action, there could be a bitter consequences.
"There's no evidence that I used chemical weapons against my own people," he reportedly told CBS television, in the interview to be aired Monday.
Assad said he "had a message to the American people that it had not been a good experience for them to get involved in the Middle East in wars and conflicts."
He "suggested that there would be, among people that are aligned with him, some kind of retaliation if a strike was made," veteran CBS correspondent Charlie Rose told CBS.
After talks with Arab League leaders in Paris, US Secretary of State John Kerry said: "All of us agree, not one dissenter, that Assad's deplorable use of chemical weapons… crosses an international global red line."
Kerry, who was dispatched by Obama to shore up support abroad, said a number of Arab countries, including Saudi Arabia, were willing to sign a statement agreed by 12 of the G20 countries last week calling for a "strong" reaction to the alleged attack.
Asked about Assad's denial, Kerry told journalists traveling with him on his next stop in London that "the evidence speaks for itself."
"Today we discussed the possible and necessary measures that can be taken," he said earlier, adding Saudi Arabia was among those who had signed on.
The stakes are high, with Obama far from guaranteed of winning a green light from Congress, amid American fears of being dragged deeper into the conflict and the risk of dangerous repercussions for allies such as Israel, which on Sunday deployed its Iron Dome missile defense system west of Jerusalem.
It remains unclear whether Obama, who was partly elected in 2008 on his promises to end the wars in Iraq and Afghanistan, would decide to go it alone if he fails to win congressional approval.
While a resolution for a military strike is likely to pass the Senate controlled by Obama's Democrats, according to a Washington Post survey some 224 of the current 433 members of the Republican dominated House were either "no" or "leaning no" on military action as of Friday. A large number, 184, were undecided, with just 25 backing a strike.
A top White House official said Sunday the Obama administration is planning "for every contingency" in case of any fallout from US military strikes.
"We have to obviously be very careful and very targeted and very limited in our engagement so we do not get dragged into the middle of this. And then there's obviously risk of reaction and retaliation against our friends," White House Chief of Staff Denis McDonough said on CNN.
He urged hesitant lawmakers to watch graphic videos released over the weekend, said to be of the August attack, showing corpses as well as dying people, including children, writhing in pain and apparently foaming at the mouth and vomiting.
The Los Angeles Times reported meanwhile that the Pentagon was preparing for three days of attacks on Syria, longer than originally planned.
War planners now aim to unleash a heavy barrage of missile strikes to be followed swiftly by additional attacks on targets that may have been missed or remain standing after the initial launch, the newspaper cited officials as saying.
A US defense official told AFP the scale and purpose of the operation against Syria has not changed in recent weeks, although US forces would adjust as needed.
"We will continue to review our targeting and targeting options as the Syrian government adapts over time," said the official, who spoke on condition of anonymity.
But Iranian Foreign Minister Mohammad Javed Zarif on Sunday slammed the potential strikes against Syria as "illegal," saying such military action was barred under the United Nations charter.
On the ground, Syrian rebels, including the jihadist Al-Nusra Front, were said to have taken control of the historic Christian town of Maalula, north of Damascus.
And an Italian journalist and a Belgian national who had both been kidnapped in early April were released and on a plane flying to Italy, the Italian government said.
Interaksyon