Hale: US trying to insulate Lebanon from Syria events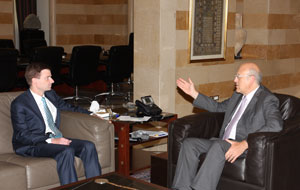 The new US ambassador to Lebanon David Hale said on Friday that Washington was working to "insulate" Lebanon from the repercussions of any US strike on Syria.
"We are also very focused on insulating Lebanon from any aftermath of any response to Syria's chemical attack," a statement issued by the US Embassy in Lebanon quoted him as saying after he presented his diplomatic credentials to Caretaker Prime Minister Najib Mikati at the Grand Serail Palace.
Hale who until recently was the United States Special Envoy for Middle East Peace replaces Ambassador Maura Connelly whose three year term ended last month.
Hale also reiterated his criticism of Hezbollah for participating in the Syria conflict on the side of the Bashar al-Assad regime, saying it "blatantly violated" Lebanon's disassociation policy agreed upon in Baabda in 2012.
"We believe the interests of the Lebanese people would be best served if all Lebanese adhere to that policy of disassociation. Yet one party in Lebanon, Hezbollah, continues to blatantly violate it through direct participation in the Syrian conflict, thereby exacerbating the challenges to Lebanon," he said.
Hale's statements came as the US State Department on Friday ordered its "non-essential personnel and family members" to leave the US Embassy in Lebanon due to security threats.
The the US State Department urged also U.S. citizens to avoid all travel to Lebanon "because of current safety and security concerns," noting that "U.S. citizens living and working in Lebanon should understand that they accept risks in remaining and should carefully consider those risks."
The United States House of Representatives expects to begin consideration of a possible military strike against Syria the week of September 9.
Iran, Hezbollah and Syria have all warned against conducting the strike on Syria.
Mikati
Hale and Mikati discussed Lebanese-American bilateral ties and the developments in the region, most notably the impact of the Syrian conflict on Lebanon.
"Lebanon believes that dialogue is the only way to end the crisis in Syria, according to what the Syrian people see fit for their country," added Mikati.
"Violence cannot resolve the current problems in Syria," he stressed
Mikati renewed the demand that Lebanon be disassociated from regional disputes, saying that Lebanon alone is not capable of supporting the burden of the Syrian refugees.
"The international community is required to immediately present Lebanon with the necessary aid to support the refugees because this issue is greatly impacting the situation in Lebanon," he explained.