President Sleiman warns of dangers facing Lebanon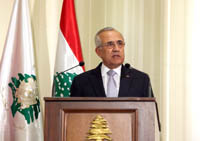 President Michel Suleiman praised on Thursday the  achievements of General Security members  in uncovering spy networks and terrorist cells,   during a ceremony marking the 68th anniversary of the establishment of the General Security department.
"You must remain united in carrying out your duties and you must have faith in the army and state institutions in confronting any instability," he said addressing General Security officials.
He noted that the agency head, Maj. Gen. Abbas Ibrahim, has been also tasked to coordinate with foreign security agencies,  such as in the case of the Lebanese kidnapped in Syria.
Commenting on the  Lebanese  Shiite pilgrims that  were kidnapped last year  in Syria  while on their way from Iran to Lebanon , he said :"The time has come to end their suffering and follow up on the issue continuously ."
The president   warned of foreign dangers facing Lebanon, namely Israel's ongoing threat against the country's sovereignty.
"Confronting dangers is a collective responsibility," he declared.
"Terrorism is happening in all countries and planting fear and chaos everywhere. The terror cells, the bombing, the rocket launching and kidnapping is an example of what global terrorism has in store for all countries," he added.
Suleiman, who attended the ceremony at General Security's headquarters in Beirut, said Lebanon is also facing domestic dangers as a result of "blinding political disputes and the   bets on what is going on around us particularly in Syria."
The president said confronting such dangers is the responsibility of all, as is committing to the laws of the state and its institutions and  called on the security agencies to work together as one body.
"Stay as you are: United in achieving tasks and believing in institutions to fend off security breaches and violations, as well as the dangers threatening our country," he said.
Last Friday, at least 42 people were killed and 900 wounded in twin explosions in Sunni-dominated Tripoli.
The explosions took place outside the Al-Taqwa Mosque in the city's Al-Zahiriya area and the Al-Salam Mosque in the Al-Mina neighborhood.
The attacks came a week after a car bomb went off on the main road between the Al-Roueiss and Bir al-Abed areas of Hezbollah's Beirut stronghold of Dahieh, leaving at least 27 people dead and more than 300 injured.