SNC's ex-chief says time ripe for political settlement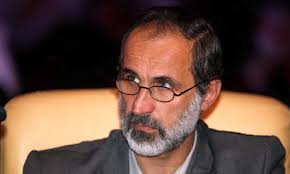 Former Syrian National Coalition (SNC) chief, Ahmed Moaz al-Khatib, said on Tuesday the time was ripe to wrest a political solution while Damascus faces the threat of military action.
"A political solution is possible because this is the first time the regime is worried," he told a group of journalists. "I say we must have a political initiative with a military action."
Khatib, who spoke after meeting European Union foreign policy chief Catherine Ashton, headed the main opposition group SNC from November until April and is currently in exile in Cairo.
He said a quick surgical strike would have little effect on President Bashar al-Assad. "If you don't finish the regime he will come back again and he will consider he's won."
"We must push for a political initiative," he stressed. "I don't believe war can bring peace to people."
The former opposition leader said he was convinced that the regime was behind the deadly August 21 chemical weapons attack even if the decision to use the arms was made by local military authorities.
AFP