Putin trying to mend fences with Obama ahead of summit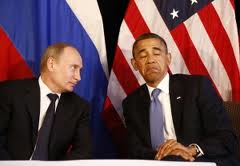 Vladimir Putin says his differences with President Obama aren't personal, or permanent.
"President Obama hasn't been elected by the American people in order to be pleasant to Russia," Putin told the Associated Press. "And your humble servant hasn't been elected by the people of Russia to be pleasant to someone either."
He added: "We work, we argue about some issues. We are human. Sometimes one of us gets vexed. But I would like to repeat once again that global mutual interests form a good basis for finding a joint solution to our problems."
That could include Syria, Putin said in the interview with AP and Russia's state Channel 1.
While Putin warned the United States and the West against one-sided military action against Syria, he said Russia "doesn't exclude" supporting strikes if it can be proven that Bashar Assad's government used chemical weapons against its people.
Reports the Associated Press:
" … Putin said Moscow has provided some components of the S-300 air defense missile system to Syria but has frozen further shipments. He suggested that Russia may sell the potent missile systems elsewhere if Western nations attack Syria without U.N. Security Council backing.
"The interview Tuesday night at Putin's country residence outside the Russian capital was the only one he granted prior to the summit of G-20 nations in St. Petersburg, which opens Thursday. The summit was supposed to concentrate on the global economy but now looks likely to be dominated by the international crisis over allegations that the Syrian government used chemical weapons in the country's civil war.
"Putin said he felt sorry that President Barack Obama canceled a one-on-one meeting in Moscow that was supposed to have happened before the summit. But he expressed hope the two would have serious discussions about Syria and other issues in St. Petersburg."
USA Today