Israel rattles Mediterranean region with ballistic missile test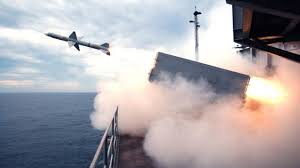 Israel said Tuesday that it had tested a new version of its Sparrow target missile over the Mediterranean Sea, an unannounced launch that was immediately detected by Russia and quickly raised tensions in a region already on edge over a possible U.S. strike against Syria.
U.S. and Israeli officials initially refused to comment on the test, raising questions about who was behind the launch and what was targeted.
Russia was the first to announce that it had detected two unknown ballistic launches at about 9:15 a.m. Jerusalem time. Russian media said the objects fell into the sea.
The news initially raised suspicions of a missile strike against Syria, but the Russian embassy in Damascus reported no sign of any explosions or damage from missiles, the RIA-Novosti news agency reported.
Later, Israel's Defense Ministry confirmed that it had conducted the launch, in conjunction with the U.S. Missile Defense Agency. The exercise was also used to test Israel's Arrow missile-defense system, the defense ministry said.
"All the elements of the system performed according to their operational configuration," the ministry said in a statement.
Update: In Washington, Pentagon press secretary George Little called the test "long-planned" and played down the U.S. role, which he said was limited to "technical assistance and support."
"This test had nothing to do with United States consideration of military action to respond to Syria's chemical weapons attack," he said.
He said the test missile was fired to help "evaluate the Arrow ballistic missile defense system's ability to detect, track, and communicate information about a simulated threat to Israel." He did not explain why the test was conducted at a time of heightened tensions in the region.]
TIgor Korotchenko, a Russian defense analyst and editor of the National Defense journal, called the tests "totally irresponsible" at such a sensitive time.
"Israel and the United States should have thought better of the grave risks of such tests at this critical time in this region before launching those missiles," Korotchenko said in an interview.
LA Times