Saudi Arabia backs US strike against Syria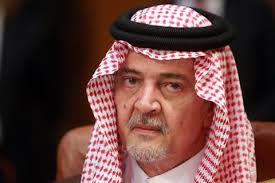 Saudi Arabia has said it is time for the world to do everything it could to prevent aggression against the Syrian people, and that it would back a US strike on Syria if the Syrian people did.
Saudi Foreign Minister Saud al-Faisal made his comments on Sunday as the United States awaits a final decision on strikes against the Syrian government for an alleged chemical gas attack that killed hundreds of civilians.
"We call upon the international community with all its power to stop this aggression against the Syrian people," Faisal said in Cairo, where he was attending a meeting of Arab League foreign ministers to discuss Syria.
On the prospect of a US strike, he said: "We stand by the will of the Syrian people. They know best their interests, so whatever they accept, we accept, and whatever they refuse, we refuse."
The Arab League meeting was expected formally to blame Assad for the gas attack.
Al Jazeera's Nadim Baba, reporting from Cairo, said that Ahmed Aljarba, the head of the opposition Syrian National Council (SNC), would give a speech at the meeting of foreign ministers.
The head of the opposition umbrella group backed by the West and Arab states is expected to ask Arab foreign ministers to back military intervention in Syria.
The Arab League last week had accused the Syrian government of carrying out the chemical-weapons attacks in a suburb of Damascus on August 21.
The Arab League suspended Syria's membership in 2011 after President Bashar al-Assad's government failed to abide by an Arab peace plan that aimed to end the conflict.
The 22-member organization offered in March Syria's seat to the SNC and decided to let its member nations arm the rebels battling Assad's government.
John Kerry, the US Secretary of State, named the regional body on Friday among a list of allies "ready to respond" to the alleged chemical-weapons attack.
However, some influential Arab League members, including Egypt, Iraq, Lebanon, Tunisia and Algeria, have expressed opposition to foreign military intervention in Syria.
Al Jazeera