Geagea: Hezbollah can't be in the new 'Lebanese' government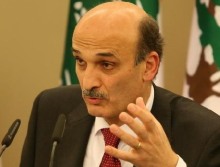 Lebanese Forces leader Samir Geagea said that a new "Lebanese government" cannot include representatives of the Shiite group Hezbollah as long as it is directly engaged in the Syrian war.
"We want a Lebanese government, and for a government to be Lebanese it cannot include Hezbollah due to its foreign engagements," Geagea said in an interview with Future TV on Monday.
"How could Hezbollah be represented inside the Lebanese government while its forces are fighting in Syria?" He asked
The LF leader also commented on the twin car bombing attacks that targeted the northern city of Tripoli last week, saying that he did not believe that the perpetrators were the same ones who placed the car bomb in Beirut's Dahieh a week before.
"I think the investigations should take [the ex-minister Michel Samaha case] as a reference point."
On August 9 of last year, Lebanese security forces arrested Samaha, who has close ties with Syria's embattled regime, for smuggling weapons into Lebanon in a bid to foment terrorism.
The Tripoli bombings took place last week killing at least 42 people and wounding over 900
The explosions took place outside the Al-Taqwa Mosque in the city's Al-Zahiriya area and the Al-Salam Mosque in the Al-Mina neighborhood.
Also, a car bomb went off on August 15 on the main road between the Al-Roueiss and Bir al-Abed areas of Hezbollah's Beirut stronghold of Dahieh, leaving 27 people dead and at least 200 injured.
Hezbollah fighters have been for several months helping the the Syrian regime of President Bashar al-Assad in its crackdown against the mostly Sunni rebels who are seeking to overthrow the regime. The rebels accused the Iranian backed Hezbollah of invading Syria and vowed to move the war to Lebanon.
Hundreds of Hezbollah fighters have reportedly been killed in Syria and buried in Lebanon. Over 100,000 have been killed so far in the Syrian civil war according to the UN
NOW