PFLP threatens to retaliate if Syria attacked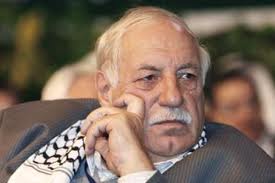 The Popular Front for the Liberation of Palestine-General Command threatened to target the interests of any party that participates in the aggression against Syria.
PFLP-GC has a base in Naa'meh valley ( which was recently attacked by Israel in response to rocket attacks) and has a number of heavily fortified positions in Lebanon.
Headed by Ahmed Jibril ( pictured) , PFLP-GC is designated as a terrorist organization by the United States and others in the West. It is an extremist Palestinian militant organization that is based in Syria and closely associated with the Syrian regime.
Western countries, led by Britain and the U.S., moved closer to military action against Syria on Sunday even as the Assad regime agreed to allow United Nations chemical weapons inspectors to visit the site of a mass attack that killed hundreds of people .
The White House dismissed the Syrian offer as "too late to be credible" and said that any evidence the UN team could collect would be "corrupted" by the delay and the regime's continued shelling of the area.