3 suspects in abduction of Turkish pilots arrested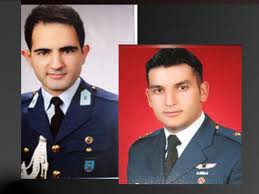 According to An Nahar newspaper 3 suspects in the abduction of the two Turkish pilots were arrested by the Internal Security Forces (ISF) .
The daily added that the intelligence branch of ISF interrogated five others but decided to let them ago after finding out they had nothing to do with the incident .
Lebanese Judge Claude Karam issued arrest warrants for all the 3 suspects.
The Turkish pilots were kidnapped on August 9 by a group demanding that Turkey should use its influence with Syria's rebels, who it backs, to secure the release of nine Lebanese Shiites kidnapped in Syria in May 2012.
A previously unknown group calling itself Zuwwar Imam al-Rida claimed responsibility for the kidnapping.
It said Turkey was "directly responsible" for the nine Lebanese who went missing in Syria.
The families of the Lebanese pilgrims, who were returning from a trip to Iran when they were kidnapped, have called repeatedly for the release of their relatives.
They accuse Turkey of not doing enough to that end.
The pilots were kidnapped in a majority Shiite area of Beirut, controlled mainly by the powerful Lebanese movement Hezbollah, a close ally of Syrian President Bashar al-Assad.
Caretaker Tourism Minister Fadi Abboud warned on August 10 that the abduction of two Turkish Airlines pilots will deal a blow to Lebanon's tourism industry and could be the last nail in the coffin of the tourism sector.
"What happened could be the last nail in the coffin of the tourism sector," Abboud told LBCI, adding that the incident would have an adverse effect on the tourism sector and harm the economy as a whole.