Hezbollah MP: Baabda Declaration was born dead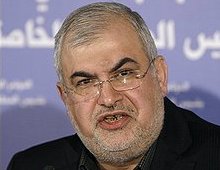 Hezbollah MP Mohammad Raad said on Wednesday that the Baabda Declaration which calls for Lebanon's neutrality with regards to the conflict in Syria was born dead.
"The Baabda Declaration was born dead, because the opponent party has sent all its weapons, gunmen and smugglers… to intervene in Syria " Raad was quoted by the National News Agency as saying.
"What is left from the Baabda Declaration is only ink on paper," Raad who heads up Hezbollah's parliamentary bloc added.
The Shiite group Hezbollah has been facing increased internal pressure from the March 14 coalition after it took an active role in the fighting in neighboring Syria.
Thousands of Hezbollah fighters are fighting alongside the forces loyal to president Bashar Al Assad against the mostly Sunni Syrian rebels who are seeking to overthrow the 40 year old regime.
Hundred of Hezbollah fighters that were killed in Syria were buried in Lebanon
The Baabda Declaration calls for disassociating Lebanon from the events in Syria war and other regional conflicts and was approved in a national dialogue session in June 2012, which Hezbollah representatives attended.
Hezbollah is reportedly facing internal resistance within the Shiite community over its role in Syria.
According to a July 7 report by 'Asharq Alawsat' a delegation of the parents of the Hezbollah fighters that were killed in Syria told the organization that they proudly sent their sons to fight Israel, but they consider the defense of Syrian regime "flawed and intolerable."
The report quoted a source familiar with the situation as saying the delegation, consisting largely of people who had lost loved ones in Syrian battles from the Baalbek region, made their request to Hezbollah Shura Council member Mohammed Yazbek.
According to the report many Lebanese see Hezbollah leader Sayyed Hassan Nasrallah's support for Assad against an insurgency dominated by Syria's Sunni majority as a miscalculation that will drag Lebanon into the Syrian quagmire and deepen Sunni-Shiite sectarian rifts in the region.
The paper quoted Hezbollah sources as saying the group is aware of the growing criticism in Lebanon and the Arab world for their support of the Syrian regime and therefore must send a delegation to Iran to clarify that it can no longer bear the burden of supporting the Syrian regime alone and that Iran must increase the participation of its own operatives in the war.
Syrian National Coalition member responsible for security and defense Kamal al-Labwani warned Tuesday that the rebels will fight Hezbollah in Lebanon after the group provided military support for the Syrian regime.
" Hezbollah has fought against us on our land, we will fight it on its own turf, but not for the time being," Labwani was quoted as saying by NOW during a press meeting Amman, Jordan
Labwani added that "after our victory in Syria, we will work to get rid of Hezbollah's military wing with the cooperation of the Lebanese people and abolish the party , which we consider as our enemy."
Labwani vowed : "We will not rest until Hezbollah is eliminated."