Hezbollah: A neutral cabinet could blow up the country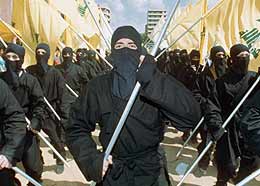 Sources from the Lebanese Shiite group Hezbollah warned of grave repercussions over the possible formation in Lebanon of of a fait accompli neutral cabinet.
"A fait accompli neutral government could blow up the country," the sources told Al-Akhbar newspaper, which is closely linked to Hezbollah, in remarks published on Tuesday.
They added that Hezbollah is still adamant about the "necessity of forming a government that reflects the political forces' real parliamentary weight ."
The report also said that the Shiite group is ignoring President Michel Suleiman's speeches and Premier-designate Tammam Salam's calls for the formation of a new cabinet.
The March 14 alliance has been adamant about keeping Hezbollah away from the cabinet over its role in Syria's war.
PM-designate Tammam Salam has been trying to form a cabinet based on giving an equal share to the rival political blocks – March 14 , March 8 and the centrists, but the Hezbollah led March 8 alliance is insisting on having a bigger share in the cabinet to allow it to veto its decisions . Salam has been opposed to giving any party a veto power ( usually referred to as a blocking third ) . He has recently been floating the idea of forming a neutral cabinet of technocrats, but Hezbollah has been opposed to this idea too and this is why Lebanon is still without a government and Najib Miqati is still acting as the caretaker Prime Minister.
Up till now Hezbollah has been counting on PSP leader Walid Jumblatt's support. But in what was described as a dramatic reversal of his previous position in support of a national-unity cabinet in which all parties including Hezbollah are represented , Jumblatt said last Wednesday that he does not oppose the formation of a neutral cabinet that does not include any of the major political parties.
"I support the suggestion to form a cabinet that does not include parties like Hezbollah, the Future Movement, the PSP and others," Jumblatt told the Egyptian As-Sharq al-Awsat news agency.
"Let there be a national dialogue conference to discuss controversies and a technocratic cabinet to solve the citizens' problems," Jumblatt added.
President Michel Suleiman , who like Jumblatt and Salam is a centrist has confirmed that he will sign off on a cabinet formula submitted by Salam if it proves to serve the nation's interest.
"If the PM-designate gave me a cabinet formula to study, and if I saw that it serves the national interest, I will not hesitate to use my jurisdiction and accept it," As Safir quoted visitors to Suleiman as saying
Hariri
In a related development, Jumblatt delegated his son Taymour and caretaker minister Wael Abou Faour to Saudi Arabia for talks with former PM and Future Movement leader MP Saad Hariri on efforts to help line up the cabinet, the As Safir newspaper reported on Tuesday.
Abou Faour, Caretaker Minister of Social Affairs, and Taymour Jumblat arrived in Jeddah Monday evening for talks with Hariri, As Safir said.
Several members of the March 14 alliance are likely to join in the discussions taking place in Jeddah in a bid to help solve the stalemate in forming a government, the daily quoted informed sources on condition of anonymity.
'Political Terrorism'
Like Hezbollah, Free Patriotic Movement leader MP Michel Aoun is opposed to the formation of a neutral and said it would lead Lebanon towards destruction.
Lebanese Forces leader Samir Geagea criticized Aoun's remarks accusing him of intimidating the Prime Minister-designate according to a report by As Safir newspaper that was published on Tuesday.
Geagea added: "Aoun is practicing political terrorism against Salam."
"Forming a neutral and technocratic government is the only realistic and safe measure during this phase in Lebanon," he said.
"Those making judgments of its failure before it is even born demonstrate that they will thwart the formation of a cabinet that they cannot control," he stressed.
"Salam cannot be terrorized or intimidated and he will not resign his post," Geagea added.
On demands for the establishment of a national unity cabinet, he said: "Such governments have proven their failure in the past and similar ones will never be formed."
"Given the current tensions and severe internal divide, forming a government devoid of March 8 and 14 elements will be the best solution," he stressed.
"With the sufficient support from the political leaders, a neutral government will definitely be capable of taking and implementing decisions," noted the LF leader.
Moreover, Geagea rejected Salam's proposal to form a cabinet equally divided between the March 8, 14, and centrist camps.
"I reject it in principle because it will face the same fate as national unity ones. If they find eight March 8 angels to hand them government portfolios, then we will consider this line-up," he said jokingly.