Tension between FPM and its allies, report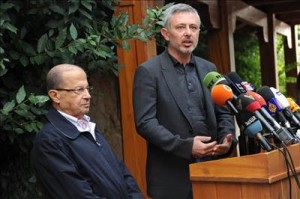 The ties between the Free Patriotic Movement which is headed by MP Michel Aoun and the Marada Movement which is headed by Suleiman Franjieh are "very tense ", a source that is close to the Marada movement told NOW.
The source also revealed that former Zahle MP Elias Skaff has been quoted as saying that Aoun "has destroyed me."
Aoun wrapped up Sunday his tour in Zahle, where he attended the morning Mass at St. Maroun Cathedral in the presence of a number of political, religious and social personalities including caretaker ministers Gabi Layyoun and Gebran Bassil , NNA reported on Sunday.
The local Zahle media reported that Skaff was absent from all the functions that Aoun attended in Zahle.
Aoun's problem with the Marada is reportedly linked to the extension of Army chief Jean Kahwaji's term. While Aoun opposed it , Franjieh supported it . Caretaker Defense Minister Fayez Ghosn who represents Franjieh in the cabinet was the one who issued on July 31, 2013 an administrative decision to extend the mandate of Army chief.
Aoun threatened to fight the decision all the way :
"We have decided to form a national front for defending the constitution, which would consist of individuals who are representative of their society, with the aim of preserving our state and preventing its disintegration." Aoun said last July 31
Aoun has been opposed to the extension of Kahwaji's term ever since the issue was raised. Kahwaji reaches the retirement age of 60 at the end of September.
Aoun wants one of his closest relatives to take over the post. He proposed last June 30 appointing his son-in-law General Chamel Roukoz who is currently the commander of Lebanese Commando Regiment ( Maghaweer) as the new army chief.
According to other reports there is also tension between Aoun and Hezbollah over the same issue. since Hezbollah supported the extension of Kahwaji's term.
Both Aoun and Franjieh are closely allied with Hezbollah and the Syrian regime