Hariri condemns the ambush agaisnt Lebanon's Arsal mayor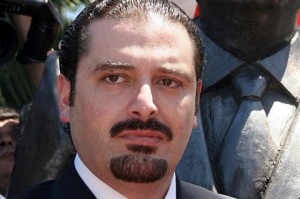 Lebanon's Future Movement leader and former prime minister MP Saad Hariri denounced the ambush against Arsal mayor Ali Mohammad al-Hujeiri in the Beqaa town of Labwe in east Lebanon on Sunday.
The attack led to the killing of two people and the wounding of two others including the mayor of the border town of Arsal, according to security sources
"I denounce this attack and I stress the importance of not getting drawn into what strife seekers are trying to ignite," Hariri's press office quoted him as saying on Sunday.
The Future Movement leader phoned Lebanese Armed Forces Commander General Jean Kahwaji and the Arsal mayor to discuss the incident with them.
Hujeiri's bodyguard Ahmad Khaled al-Hujeiri who was identified as one of the people killed in the Labwe ambush , is also known as Abu Khaled al-Tabsh. The other victim was identified as Shehayeb al-Ahmad. Both are from the Mayor's convoy.
A previously unknown gang that identified itself as the group of 4 martyrs claimed responsibility for the ambush.
Lebanon's Prime Minister-designate Tammam Salam who also condemned the incident called for dealing "strictly with the Labwe incident "
"I call on the Lebanese Armed Forces and security forces to deal strictly with the incident and to prosecute the perpetrators and bring them to justice," National News Agency quoted Salam as saying in a statement issued on Sunday.
The premier-designate added: "We congratulate the Arsal mayor on escaping the assassination attempt… and we strongly denounce this act against the Beqaa and its residents."
NNA also reported that caretaker Interior Minister Marwan Charbel informed Salam of the incident's details and coordinated with him the measures to be taken by security agencies.