Eiffel Tower reopens after bomb scare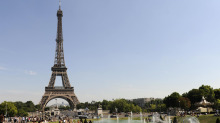 Hundreds of tourists were evacuated from Paris' Eiffel Tower on Friday afternoon in response to a bomb alert, but it was found to be a scare and the tower was reopened two hours later, police told Reuters.
Police sent a bomb disposal unit to inspect the monument after an anonymous phone call triggered the alert around 2 p.m. (1 p.m. British time), but the team found nothing suspicious and the tower was reopened, a police official said.
Built in 1889, the 324 -meter-high (1,062-foot) iron tower sees some 7 million visitors each year and up to 30,000 a day in the peak summer season.
The tower is regularly subject to bomb scares but the threats only cause full evacuations a couple of times a year.
Reuters