Saudi offers Russia deal to scale back Assad support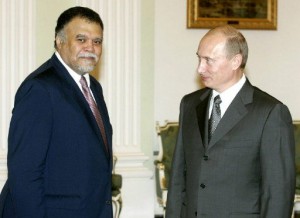 Saudi Arabia has offered Russia economic incentives including a major arms deal and a pledge not to challenge Russian gas sales if Moscow scales back support for Syrian President Bashar al-Assad, Middle East sources and Western diplomats said on Wednesday.
The proposed deal between two of the leading power brokers in Syria's devastating civil war was set out by Saudi intelligence chief Prince Bandar bin Sultan at a meeting with Russian President Vladimir Putin in Moscow last week, they said.
Russia has supported Assad with arms and diplomatic cover throughout the war and any change in Moscow's stance would remove a major obstacle to action on Syria by the United Nations Security Council.
Syrian opposition sources close to Saudi Arabia said Prince Bandar offered to buy up to $15 billion of Russian weapons as well as ensuring that Gulf gas would not threaten Russia's position as a main gas supplier to Europe.
In return, Saudi Arabia wanted Moscow to ease its strong support of Assad and agree not to block any future Security Council Resolution onSyria, they said.
A Gulf source familiar with the matter confirmed that Prince Bandar offered to buy large quantities of arms from Russia, but that no cash amount was specified in the talks.
One Lebanese politician close to Saudi Arabia said the meeting between Bandar and Putin lasted four hours. "The Saudis were elated about the outcome of the meeting," said the source, without elaborating.
Putin's spokesman, Dmitry Peskov, could not immediately be reached on Wednesday for comment about the meeting. A Saudi Foreign Ministry official was also not immediately available to respond.
Putin's initial response to Bandar's offer was inconclusive, diplomats say. One Western diplomat in the Middle East said the Russian leader was unlikely to trade Moscow's recent high profile in the region for an arms deal, however substantial.
He said Russian officials also appeared skeptical that Saudi Arabia had a clear plan for stability inSyria if Assad fell.
CHEMICAL WEAPONS
However, in a possible sign of greater flexibility by Moscow, other diplomats said that in the run-up to the meeting Russia put pressure on Assad to allow in a U.N. mission to investigate the suspected use of chemical weapons.
The U.N. team is expected to visit Syria next week.
"This was one of those unannounced meetings that could prove much more important than the public diplomatic efforts being made on Syria," one diplomat said.
A senior Syrian opposition figure said there had been a "build-up of Russian-Saudi contacts prior to the meeting".
"Bandar sought to allay two main Russian fears: that Islamist extremists will replace Assad, and that Syria would become a conduit for Gulf, mainly Qatari, gas at the expense of Russia," he said. "Bandar offered to intensify energy, military and economic cooperation with Moscow."
Saudi Arabia and other Sunni Muslim powers have been strong supporters of the mainly Sunni rebels battling Assad, from Syria's minority Alawite sect, an offshoot of Shi'ite Islam. The rebels have been joined by foreign Sunni jihadis.
Assad has enjoyed military support from Iran and fighters from Hezbollah and Iraqi Shi'ites.
Russia has maintained military sales to Syria throughout the two year conflict in which 100,000 people have been killed, and helped block three U.N. draft resolutions criticizing Assad's crackdown on the mainly peaceful protests against him in 2011.
The Security Council has been considering a possible resolution on aid for Syria for several months and a shift in position by Moscow could alleviate this.
Ruslan Pukhov, director of the Moscow-based defense think tank CAST, said he had no direct knowledge of the offer, but he would not be surprised if a contract to supply Saudi Arabia with 150 Russian T-90 tanks were revived.
"There was an order of T-90s that was stopped for mysterious reasons, and if this is a resurrection of that order then we could suspect that the Saudis want something in return and that something could be linked to Syria," said Pukhov, who is close to Russia's Defense Ministry.
"If the Saudis want Moscow to outright drop Assad, they will refuse the deal, but they may have a more nuanced position, which they could possibly agree to."
Russia and Saudi Arabia penned an arms contract in 2008 for 150 T-90s as well as more than 100 Mi-17 and Mi-35 attack helicopters as well as BMP-3 infantry fighting vehicles, but the contract has stalled for years.
Russian newspaper Kommersant reported at the time that the contract was concluded to persuade Moscow to curtail its ties with Iran, though the Kremlin denied that report.
Reuters exclusive report