Jumblatt tells Hezbollah: Let Palestinians decide their fate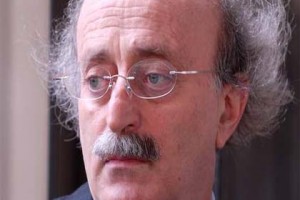 Progressive Socialist Party leader MP Walid Jumblatt responded to the Al Quds day speech by Hezbollah chief Sayyed Hassan Nasrallah by telling him that it is up to the Palestinians themselves to decide their fate and not the Lebanese.
"Sayyed Hassan Nasrallah said in one of his speeches several years ago that he is concerned for the liberation of Lebanese lands, and we support him in that. Let us leave the Palestine's fate for the Palestinians themselves to decide," Jumblatt said in remarks that will be published Tuesday by the PSP's Al-Anbaa weekly newspaper.
Nasrallah delivered a fiery speech Friday on the occasion of Al Quds ( Jerusalem ) Day, calling for the elimination of Israel and warning against any attempt to marginalize the role of Shiites in the Arab-Israeli conflict.
" Israel is a cancerous presence and poses a danger to all people of this region, including Lebanon, the only solution when it comes to cancer is to eradicate it and this is a Lebanese national interest," the Hezbollah leader said in a rare public appearance in Hezbollah's stronghold of Dahiyeh, a southern suburb of Beirut.
"The entire Palestine, from the sea to the river, must return to its people. No one in the world, no king, prince, Sayyed, leader, president or state has the right to give up a single grain of sand of Palestine's land." Nasrallah added.
Nasrallah's speech came 2 days after Israeli and Palestinian negotiators agreed in Washington to continue to meet over the next several months on peace talks.
A Huge liability for Lebanon
Hezbollah, which was credited with the liberation of Lebanese territories from Israel in 2000 was a very popular organization in Lebanon and throughout the Arab world. Back then pictures of the Hezbollah chief were posted everywhere throughout the Arab world.
But according to analysts ever since its 2006 war with Israel, Hezbollah has become a huge liability for Lebanon. Despite the destruction of Lebanon's infrastructure and the great loss of lives during that war Hezbollah claimed victory and used its arms to try and bring down the government of former PM Fouad Siniora, who helped in ending that war.
In 2008 Hezbollah pointed its guns against the Lebanese people when it occupied more than half of Beirut and tried but failed with a great loss of lives to occupy Mt Lebanon .
In 2011 Hezbollah brought down the government of former PM Saad Hariri and reportedly used its arms to force progressive socialist party leader MP Walid Jumblatt and his parliamentary bloc to vote for their candidate Nagib Mikati as the new premier .
On March 22 , 2013 the government of PM Mikati collapsed after Hezbollah refused to extend the term of the Internal Security Forces chief.
Hezbollah's current support for the Syrian regime in its brutal crackdown against the pro democracy uprising and its recent involvement in terror operations in Bulgaria and Cyprus that led to its listing by the EU as a terrorist organization are additional concerns for the Lebanese people, analysts say.
PM Designate Tammam Salam has been trying to form a cabinet of equal share for all the 3 rival camps in Lebanon but Hezbollah and its allies are insisting on having a veto power in the new cabinet and that is why Lebanon remains without a government.
The presidential palace was targeted in a rocket attack last Thursday hours after a speech by president Michel Suleimna on Army Day in which he criticized Hezbollah's role in defending the Syrian regime.
"The army's mission would be impossible if a party or more from Lebanese people get involved in wars outside Lebanon ", Suleiman stressed in another reference to the thousands of Hezbollah fighters who have been fighting alongside the forces loyal to Syrian president Bashar against the rebels seeking to end his family's four-decade rule.
Hezbollah which was established by the Iranian Revolutionary Guards in 1982 was accused of being behind the attack against the Baabda palace