President Suleiman heads to Tehran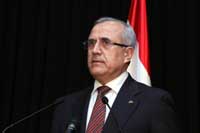 An Nahar Newspaper reported that Lebanese President Michel Suleiman heads to Tehran on Sunday to participate in the inauguration ceremony of the newly elected Iranian president Sheikh Hassan Rouhani.
Suleiman's visit will be short. Last week As safir reported that he will be accompanied by a small official delegation which will include caretaker Deputy Prime Minister Samir Mokbel and Foreign Minister Adnan Mansour.
While in Tehran , An Nahar did not rule out a possible meeting with the Iranian Supreme leader Ayatollah Ali Khamenei, and a number of heads of delegations that will be participating in the inauguration ceremony.
An Nahar also reported that Suleiman was planning a stop n Riyadh on the way back , bit this did not work out due to conflicting schedules.
As Safir reported last week that Suleiman is expected to depart Tehran to Beirut the same day Sunday August 4 .
Suleiman's trip comes after the presidential palace was targeted in a rocket attack last Thursday night following his speech at the army day ceremony in which he criticized Hezbollah's role in defending the Syrian regime.
"It has become urgent to study a defense strategy especially that the resistance's arms have gone beyond Lebanon's borders". He said. Hezbollah is usually referred to as the resistance.
"The army's mission would be impossible if a party or more from Lebanese people get involved in wars outside Lebanon ", Suleiman stressed in another reference to the thousands of Hezbollah fighters who have been fighting alongside the forces loyal to Syrian president Bashar against the rebels seeking to end his family's four-decade rule.
Hezbollah was established by the Iranian Revolutionary Guards in 1982 and without Tehran's strong backing the Syrian regime may have collapsed long time ago according to observers.
US , Israel not invited
In a somewhat interesting development Iran's foreign ministry said last week that the United States and Israel have not been invited to attend the inauguration of Rouhani.
Spokesman Abbas Araghchi told a press conference last Tuesday that leaders from all other countries, including Britain, have been invited to the swearing-in of Rouhani.
Araghchi had said earlier the previous Sunday that all world leaders have been invited to the event, but his remarks last Tuesday clarified that U.S. and Israeli leaders are not on the list.
Rouhani has pledged to follow a "path of moderation." He also promised greater openness over the country's nuclear program, which has placed Iran at odds with the West.
Rouhani, who will have limited authority as a president won a landslide victory in June 14 presidential elections. He replaces outgoing President Mahmoud Ahmadinejad.
Khamenei is the country's unelected de facto ruler under the Wilayat al-Faqih ( the rule of Islamic jurisprudence) Iranian system . According to Iranian constitution the Supreme Leader asserts the authority of the president.