Charbel: Rocket attack clearly targets the Army, Presidency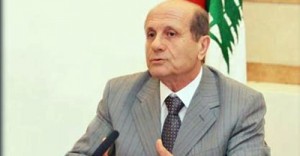 Lebanon's Caretaker Interior Minister Marwan Charbel condemned on Saturday the Thursday rocket attacks , declaring that they clearly targeted the Lebanese army and the presidency and stressing that President Michel Suleiman's speech on the Army day was not targeting the resistance.
In comments made to Voice of Lebanon radio (100.5) Charbel expressed hope that politicians would try to evade all disputes, pointing out that the incident will have a dangerous impact on the security and economic situation in the country.
On Thursday, two rockets were fired in the Baabda area with one landing in the garden of the Freiha villa that is located near the Officers' Club.
One landed within the security perimeter of the Presidential Palace and the other within the security perimeter of the Army headquarters .
The attack came hours after President Suleiman gave a speech during the ceremony marking the 68 the Army Day.
Suleiman, who has been calling for dialogue to discuss Lebanon's defense strategy , based on the Baabda declaration criticized in his speech Hezbollah's role in defending the Syrian regime.
"It has become urgent to study a defense strategy especially that the resistance's arms have gone beyond Lebanon's borders". Hezbollah is usually referred to as the resistance.
"The army's mission would be impossible if a party or more from Lebanese people get involved in wars outside Lebanon ", Suleiman stressed in another reference to the thousands of Hezbollah fighters who have been fighting alongside the forces loyal to Syrian president Bashar against the rebels seeking to end his family's four-decade rule.
Charbel clarified that Suleiman meant that a "successful resistance is the one that only defends its own country."
"He wasn't only talking about the resistance but all the sides that are intervening in battles outside Lebanon," the Charbel said.
Charbel said that Suleiman's statements were taken out of their context.
President Suleiman decried on Friday the impact of the overnight rocket attack near the Presidential Palace and said they won't make him give up his national principles.
"Repeated rocket messages – whoever the sender is and wherever they are directed at, and whatever the degree of danger and the motive behind firing them – cannot change national principles"," Suleiman said
"The recurrence of rocket messages, no matter who sends them and wherever they are directed at and no matter how dangerous they are, cannot change the national principles and convictions that are being expressed freely and sincerely , stemming from the belief in the national interest to shield the country from what is happening around us and the region," Suleiman said in a statement.
Hezbollah slams link
Lebanon's Hezbollah militant group slammed on Friday reports linking President Suleiman's speech to the rocket attack.
"Linking the president's statement to the attack is a despicable and blatant attempt." Hezbollah said in a statement.
But Hezbollah friends in the media attacked President Suleiman. An Al Akhbar editorial told Suleiman" Get out". "Who convinced him that he is Lebanon's top statesman ? Who convinced him that he is Lebanon's savior ? Who convinced him that the country will abide by what he says ? "Said Ibrahim al Amine the editor of the article ."