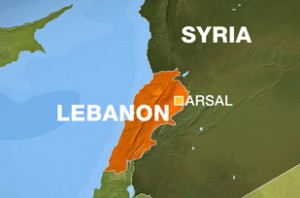 The Syrian regime conducted  airstrikes near the Bekaa town of Arsal in Eastern Lebanon  killing 9 Syrian nationals and wounding 9 others  according to a report by the National News Agency.
NNA said  that the airstrikes targeted Syrian refugee gatherings in the  area between Ras Baalbek and Arsal.
NNA also noted that the wounded, among which are women and children , were transferred to the Universal Hospital and other Baalbek medical centers.
The mostly Muslim Sunni Arsal  which supports the uprising against Syrian president Bashar al Assad has been repeatedly shelled by the Syrian regime .The most recent  air raid on Arsal   took place in June when  a Syrian helicopter fired a series of missiles on  the town  which prompted the Lebanese Armed Forces to issue a rare warning against the Syrian regime.
Other border areas in the north and east have also been  repeatedly shelled by  the Syrian regime  forces.
The repeated violations prompted  President Michel Suleiman to  urge  Syria to respect Lebanon's sovereignty and to  file a complaint with  the United Nations and the Arab League.
Despite the fact that  Lebanon has adopted an official position of neutrality over the conflict, the  country is sharply divided into pro- and anti-Assad camps.
The  Hezbollah led March 8 alliance  backs Assad, while the  March 14  alliance backs the uprising.
Thousands  of Hezbollah fighters who have been fighting alongside the forces loyal to  Assad against the rebels seeking to end his family's four-decade rule.