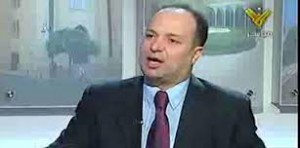 Ali Younis, a relative of Syrian political commentator Mohammad Darrar Jammu re-enacted on Thursday the crime in Sarafand under the supervision of the prosecutor of the south, Judge Samih al-Hajj.
"I am not ashamed, I am holding my head up high and I am not afraid… No one really knows him," Younis, the nephew of Jammu's wife, said during the re-enacting of the crime.
Jammu was assassinated on July 17 in Sarafand in southern Lebanon.
Judge Hajj reiterated that the crime is not political.
"Re-enacting the crime is to prove to the Lebanese people that the judiciary and security forces will follow all criminals and detain them," Hajj told reporters.
First Military Investigation Judge in the south Munif Barakat, later on Thursday, issued arrest warrants against Siham Younis, Jammu's wife, her brother, and nephew in his murder.
On Monday, three of Jammu's relatives who were also suspects in the crime , his daughter Fatima, sister-in-law, and brother-in-law were acquitted over lack of evidence and released from custody.
The 44-year-old Jammu was considered a staunch ally of the Syrian regime of president Bashar al Assad and served as head of the department of political and international relations at the International Association of expatriates. He often appeared on Hezbollah's Almanar TV to defend Assad
Jammu used to describe the Syrian rebels who have been trying for over 2 years to topple the Assad regime as "traitors".
Initial reports hinted that the murder was politically motivated but the Lebanese Armed Forces command said following the crime that the preliminary investigations showed that there were no political motives behind the killing of Jammu (or Jammo).