Lebanese blame the Syrians in the slowing economy
Salim al-Asheq says he knows who is to blame for the decline in his Beirut laundry business.
About two months ago, a Syrian clothes mender less than half a kilometer away in the Ain al-Rummaneh suburb of the Lebanese capital introduced cut-price ironing services: 1,000 pounds (66 cents) for a pair of trousers, according to a sign outside the tiny shop. Al-Asheq charges four times more.
"He may have taken some of my business," Al-Asheq said at his workshop. "We need firm government action against Syrians who are competing with us."
The war in Syria has forced more than 1.2 million Syrians to flee across the border to Lebanon, where a backlash is brewing against illegal businesses as the country of 4.3 million people struggles with an economy growing at less than a third of the rate it was before the conflict started.
Many of the Syrians, half of them refugees, have set up everything from vegetable kiosks and grocery outlets to taxi services, taking revenue from Lebanese businesses by cutting prices, according to Wael Abou Faour, social affairs minister in Lebanon's caretaker cabinet. In response, the government is starting a crackdown on unlicensed Syrian businesses, first in parts of the eastern Bekaa Valley, where 377 illegal enterprises have sprung up in a group of villages, he said.
"We are trying to reduce the tensions between the Lebanese and the Syrians," said Abou Faour. "If we don't act, we will head toward a huge showdown between Lebanese and Syrians."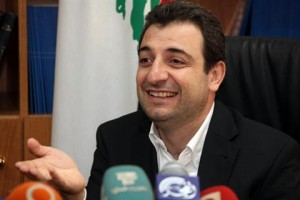 Economic Threat
Government measures to close businesses were scheduled to start yesterday, according to Abou Faour. In Saadnayel in the Bekaa Valley, the campaign was delayed though would start soon, said Khalil Chehimi, head of the municipality.
The number of Syrian refugees in the town has reached 18,000 and now equals the residents, Chehimi said yesterday. He said the Syrians are running 60 businesses, a quarter of Saadnayel's total, straining services. Monthly garbage collection has more than doubled, he said.
"The people here are fed up," Chehimi said by telephone. "The Syrians are competing with the locals. Their presence is posing a threat to the economy."
Gross domestic product in Lebanon was forecast by the International Monetary Fund in its April World Economic Outlook to rise 2 percent this year. While that's up from 1.5 percent in the previous two years, it compares with 7 percent in 2010. The civil conflict in Syria turned bloody a few months after protests against President Bashar al-Assad began in March 2011.
Cinnamon Pouch
The Syrian community in Lebanon includes more than 600,000 refugees, António Guterres, the United Nations High Commissioner for Refugees, said in a July 16 speech.
The rest comprises affluent Syrians who fled the crisis though aren't registered as refugees and workers and their families who arrived before the war began, Abou Faour said last month, citing police records. Syrians can work in Lebanon, though they cannot own businesses, he said.
The newcomers have appealed to many Lebanese. Jinan Abu Zaki, 19, stood outside "dip 'n dip" in the muggy heat one evening, waiting for a vacant table at the popular chocolatier, which has relocated from Damascus to Beirut's Hamra area.
Abu Zaki was first attracted by the swirling chocolate fountains on the counter as she passed the shop. Then she got hooked on the cinnamon pouch, a specialty crepe with a banana and cream filling. "It's well worth the wait," said Abu Zaki.
Knife Brawls
Others are less happy. In the past three weeks, brawls with knives and sticks have broken out between Lebanese and Syrians setting up stands in public markets, Abou Faour said last week. The Syrians have poured into a country whose economy is suffering, raising the price of essentials and housing, he said.
"Rising costs of rent and basic goods exacerbate this strain at a very personal level," said James Petretta, associate director for the Middle East and North Africa at Maplecroft, a U.K.-based global risk adviser. Syrians seen as taking Lebanese jobs "will for some locals simply be too much," he said by e-mail from London.
There's also the sectarian tension that has been edging Lebanon closer to its own civil war. Sunni and Shiite Muslims make up about 60 percent of the population with Christians of different denominations accounting for most of the rest, according to the CIA World Factbook.
Business week