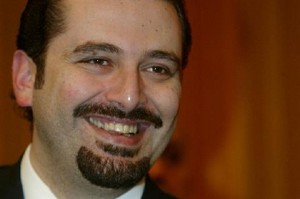 Hezbollah urged former Prime Minister Saad Hariri to return to Lebanon , al-Joumhouria newspaper reported on Tuesday, adding this comes after the former PM received several calls from Speaker Nabih Berri asking him to come back and form a cabinet.
Hariri's government was toppled by the the Hezbollah-led March 8 alliance in January 2011. He left the country the following April and never returned for security reasons.
Berri's calls on Hariri to return was widely reported last week.
In remarks published by As-Safir newspaper Monday July 22, Berri said: "If Hariri wanted to run for the premiership, we would study the matter. "
He also called on Hariri to return to Lebanon "so that we can discuss with him National Dialogue, efforts to form the Cabinet and everything else."
Hariri, who heads the Future Movement has not commented on Speaker Nabih Berri's call to return to Lebanon and nominate himself to the premiership.
However several members of Hariri's parliamentary bloc dismissed Berri's call for Hariri to nominate himself as a new prime minister as "a maneuver."
"We have nominated Tammam Salam as prime minister. Hariri's nomination now is out of the question," Beirut MP Ammar Houri told reporters last week .
Houri said Berri's call on Hariri to run for the premiership reflected the speaker's problems with Salam over the formation of a new Cabinet.
Similarly Shouf MP Mohammad Hajjar described Berri's call on Hariri to run for the premiership as "a maneuver," reiterating his bloc's support for Salam.
"Our position is clear, which is to support Prime Minister-designate Tammam Salam in the Cabinet formation," Hajjar told Al-Jadeed TV last Tuesday.
"Those who are trying to distract attention from the main problem, which is the Cabinet formation, and those who are trying to put obstacles in the way of the formation, should facilitate the mission of Salam whom we have granted all confidence to form the Cabinet according to the conditions he has proposed," Hajjar said.
He added that Berri's call on Hariri to return to Lebanon to head the new government is not on the cards.
Salam, who was appointed prime minister-designate on April 6, has run into trouble forming a new Cabinet as a result of the conditions set by the Hezbollah led March 8 alliance.
Berri , a key ally of the Iranian backed Hezbollah was was quoted as saying last week that " Salam's insistence on his proposal for a 24-member Cabinet equally divided by the March 8 and March 14 parties and centrists did not help in the Cabinet formation.
March 8 is insisting on having a veto power in the cabinet. Instead of 8 members it reportedly wants 9 or more.
Ali Hussein a local observer told Ya Libnan on Tuesday: " Hariri should respond by telling Nasrallah why don't you come to Jeddah ?
Hussein was referring to Hezbollah chief Sayyed Hassan Nasrallah who has been hiding for over seven years ; ever since the July 2006 war erupted between Israel and Hezbollah.
Hussein added: Hariri should ask Nasrallah to bring along with him to Saudi his dad's killers ".
Hussein was referring to the 4 fugitive Hezbollah members who were accused by the Special Tribunal for Lebanon ( STL) of killing Hariri's father former PM Rafik Hariri who was assassinated on February 14 2005 in downtown Beirut