EU's Ashton says Egypt's Mursi is in good health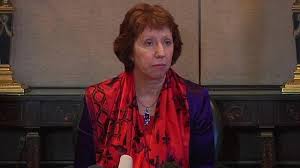 Egypt's rulers allowed an EU envoy to meet deposed President Mohamed Mursi, the first time an outsider has been given access to him since the army overthrew him and jailed him a month ago, and she said she found him in good health.
European Union foreign policy chief Catherine Ashton revealed little about her two-hour conversation with the deposed Islamist leader after she was taken to an undisclosed location to visit him.
"I've tried to make sure that his family know he is well," said Ashton, who has emerged as one of the only figures accepted by both sides as a potential mediator in a conflict that has plunged the most populous Arab state into violent confrontation.
Ashton said Mursi had access to television and was informed about the situation in the country. Nearly 300 people have been killed in violence since he was removed on July 3.
Ashton said she had made meeting Mursi a condition of her offer to visit Egypt, where she also met with the general who removed him and other top leaders: "I said I wouldn't come unless I could see him (Mursi)."
Media have speculated about why the military-backed rulers would have allowed her to meet the ousted leader who had been kept incommunicado for a month. She denied that she carried an offer to Mursi of "safe exit" if he were to renounce his claim to the presidency.
She also said she did not know where she was when she met him.
"I saw where he was. I don't know where he is but I saw the facilities he has," said Ashton.
Earlier, Ashton's spokeswoman Maja Kocijancic said on Twitter that Ashton had held two hours of "in depth" discussions with the ousted leader.
Egypt's authorities say Mursi is being investigated for charges including murder, stemming from a 2011 jailbreak when he escaped detention during protests against former autocrat Hosni Mubarak.
Ashton, Europe's top diplomat, has been shuttling between Egypt's rulers and the Muslim Brotherhood to try to pull the country back from more bloodshed as one of the only outsiders that is accepted by both sides as a potential mediator.
Foreign countries are urging the military-backed rulers to reach compromise with Mursi's Brotherhood to bring the country back from the brink of further bloodshed. Eighty Brotherhood supporters were gunned down on Saturday.
The government has ordered the Brotherhood to abandon a vigil it has maintained with thousands of supporters camping out to demand Mursi's return. The Brotherhood says it will not leave the streets unless Mursi is restored.
The violence has raised global anxiety that the army may try to crush the Brotherhood, a movement which emerged from decades in the shadows to win power in elections after Egypt's 2011 Arab Spring uprising against Hosni Mubarak.
Reuters