Egypt Allows EU Envoy to Visit Morsi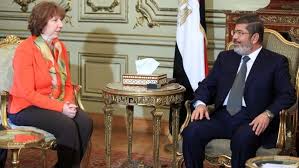 Egypt's interim military rulers on Monday agreed to let the European Union's top foreign diplomat meet with Mohammed Morsi, as concern grew for the former president's welfare nearly a month after his ouster.
Catherine Ashton, the EU's high representative for foreign affairs and security policy, would be the first person aside from military personnel to see Mr. Morsi since the army ousted him on July 3 and sequestered him in undisclosed locations. It was unclear late Monday if Mr. Morsi would meet with her. He refused last week to see a group of Egyptian human-rights lawyers who received the military's permission to meet with him.
In a brief interview, Hazem El Beblawi, Egypt's prime minister, confirmed the military's arrangement with Ms. Ashton.
Ms. Ashton's request comes amid rising expressions of concern from lawyers, human-rights activists and foreign diplomats for information on Mr. Morsi's location and welfare. His absence has helped fuel the sense of injustice among Morsi supporters, whose increasingly bloody conflict with Egypt's security services has led to at least 200 deaths since his ouster.
"He is not a prisoner. He is kidnapped," said Negad Al Boraei, a human-rights lawyer and chairman of the Cairo-based United Group law firm, who was among the attorneys Mr. Morsi rebuffed. "Everybody knows that this is a political issue."
Shortly after Gen. Abdel Fattah Al Sisi, Egypt's defense minister and head of the army, announced that he had removed Mr. Morsi from office following massive protests against his rule, the army said it took the former president to a club owned by its elite Republican Guard in the Cairo neighborhood of Nasr City.
The army hasn't commented since on Mr. Morsi's whereabouts. People close to the military say it is unlikely that Mr. Morsi remains at the club, which functions as a hotel and events venue for military officers.
The military has repeatedly stated that the president is being held in good conditions "befitting a former president" and that it is detaining him to protect him.
Prosecutors formally remanded Mr. Morsi into custody on Friday for 15 days, charging him with murder and espionage. Some human-rights researchers said the list of charges suggested a politically motivated attack.
Mr. Morsi's wife and children have already publicly accused the military of kidnapping the former leader and resolved to press charges against it.
The military-led interim government has rebuffed recent requests by American officials to meet with Mr. Morsi, diplomats say. A request by United Nations human-rights officials for information about Mr. Morsi was rejected two weeks ago.
The New York-based prisoners' advocacy group Amnesty International said on Friday the former president and nine of his aides appear "to be held in a manner which deprives them of the protection of the law, in conditions which put them at risk of torture and other ill-treatment, and which may amount to enforced disappearance."
Some observers have questioned whether the military is exacting revenge on Mr. Morsi. Amnesty International pointed out he was detained along with more than 600 other Muslim Brotherhood leaders, at least some of whom remain in jail after failing to come up with bail money. Police and military personnel have also used what human-rights activists describe as excessive force against pro-Morsi demonstrators. Police gunned down at least 74 protesters in a heated early-morning gunbattle on Saturday and another at least 53 during another clash in early July.
Some of Mr. Morsi's absence can also be attributed to the former president himself. The former leader refused to meet with the delegation of human rights lawyers, demanding instead that any visiting legal team include Selim Al Awa, an Islamist legal scholar who ran against Mr. Morsi for the presidency last summer. Mr. Awa didn't respond to requests for a comment on Monday.
"He's a very proud man," said a person close to Mr. Morsi and his family. "I think the idea of doing anything on army's terms will not work with him."
WSJ
Photo: EU Foreign Policy Chief Catherine Ashton met with Egyptian President Mohamed Morsi on November 14, 2012 in Cairo, a day after attending an EU-Arab foreign ministers meeting at the Arab League headquarters. She tried to meet him again following his ouster on July 17 but couldn't.