VP ElBaradei condemns 'excessive use of force' in Egypt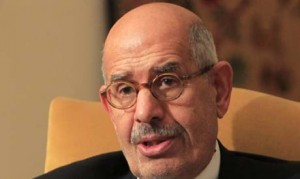 Egypt's Vice President Mohamed El-Baradei on Saturday strongly condemned the "excessive use of force" in Egypt via Twitter, following deadly clashes between loyalists of toppled president Mohamed Morsi and security forces.
"I am working hard and in every direction to end the confrontation peacefully," he said.
Scores of Morsi's supporters were killed early Saturday in the deadliest violence since his ouster on July 3, after mass nationwide rallies were staged on Friday both in opposition to and support of Morsi's overthrow by the army.
The prominent liberal leader Mohamed El-Baradei, former head of the nuclear watchdog IAEA and a Nobel peace prize laureate, was sworn in as interim Vice President on July 14 following the Egyptian Army's eviction of Morsi's cabinet.
Ahram