Raad: No cabinet will see the light without Hezbollah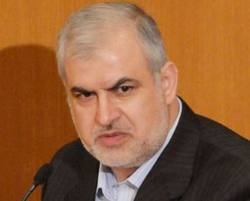 The head of Hezbollah's parliamentary bloc MP Mohammad Raad  reiterated that the new Cabinet would not be formed without the participation of Hezbollah.
"The Cabinet will not see the light if we are not partners in it. This is not a challenge but everyone admits we are a major component of the Lebanese people and we will take part in the next government with our allies and friends,"  National News Agency quoted MP Mohammad Raad as saying during an Iftar in the Nabatieh town of  Jbaa on   Saturday.
Raad  added that any Cabinet formed without Hezbollah would be "unconstitutional."
The March 14 coalition argues that  Hezbollah's involvement in the Syrian conflict  and its listing as a terrorist organization by the European Community  precludes allowing the party to take part in the upcoming government.
Lebanon PM  Designate Tammam Salam has been trying to form a government   ever since the cabinet  of caretaker Prime Minister Najib Mikati collapsed last March   but the Hezbollah led March 8 alliance  is insisting on having veto power in the new cabinet . The PM-designate wants a non political cabinet  that can get down to business , for this reason  his latest proposal is based on giving  an equal  share  of 8 cabinet seats in  a 24 seat cabinet to each of the  3 opposing political blocks – March 14 ,  March 8 and  the centrists. But   March 8  is insisting on having nine seats  and Salam  is saying no way.
Intimidation
Raad said  the recent decision of the  European Union  to list his party's "military wing" as a terrorist group aimed at intimidation.
"The decision of the European Union is  a terrorist message and not a political one, they want to terrorize our people and instill fear in their hearts," Raad said .
"The decision is not only an insult to the resistance and its people … it reflects the despair of the Europeans over all their attempts to put down the resistance and tame it," he added.
A Huge liability for Lebanon
Hezbollah, which was credited with liberating Lebanese territories from Israel in 2000 was a very popular organization in Lebanon and throughout the Arab world. But according to analysts ever since its 2006 war with Israel, Hezbollah has become a huge liability for Lebanon. In 2006 Hezbollah's arms were used to try and bring down the government of former PM Fouad Siniora. In 2008 Hezbollah pointed its guns against the Lebanese people when it occupied more than half of Beirut and tried but failed with a great loss of lives to occupy Mt Lebanon . In 2011 it brought down the government of former PM Saad Hariri and reportedly used its arms to force progressive socialist party leader MP Walid Jumblatt and his parliamentary bloc to vote for their candidate Nagib Mikati as the new premier . On March 22 the government of PM Mikati collapsed after Hezbollah refused to extend the term of the Internal Security Forces chief. Hezbollah's current support for the Syrian regime in its brutal crackdown against the pro democracy uprising and its recent involvement in terror operations in Bulgaria and Cyprus that led to its listing by the EU as a terrorist organization  are additional concerns for the Lebanese people, analysts say.