UN, Lebanon discuss enforcing border controls with Syria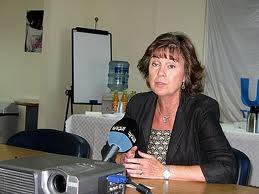 The UN refugee agency is negotiating with Lebanon over the country's plan to enforce new border controls that could affect the flow of Syrian refugees, a UN official said Friday.
"We understand from the government that they are now exerting stricter scrutiny at the border," said Ninette Kelley ( pictured) , UN High Commissioner for Refugees representative in Beirut.
"We will continue to engage with (the authorities) to ensure that refugees in need of protection will have access to Lebanon but also that the legitimate security concerns of the government are respected and observed," she added.
The statement comes three days after the Lebanese government announced new entry controls, in a bid to reduce friction between the local population and Syrian refugees.
At least 645,000 Syrian refugees are already in Lebanon — though the real number is believed to be much higher.
The small country hosts the largest portion of the 1.8 million Syrian refugees who have fled to neighboring countries to escape a conflict now in its third year.
Lebanese ministers insisted earlier this week that the new rules would not close the border to refugees fleeing Syria.
But they said that in the future they would recognize as refugees only those fleeing parts of Syria that have been wracked by violence.
But General Security, which is tasked with controlling Lebanon's borders, insisted no new restrictions were being imposed, and the new policy was simply to implement existing rules more uniformly. "The rules are the same," a General Security source told AFP on condition of anonymity.
"But in order not to allow people with terrorist ties or other security problems to take advantage of the humanitarian situation, we are now being stricter and ensuring that only people with a valid ID or passport are allowed in," he said.
The source added that Syrians must have a valid address in Lebanon. Some 15,000 Syrians enter and leave Lebanon every day, in approximately equal proportions, he added.
Lebanon is the only one of Syria's neighbors that has so far kept an open-door policy to refugees, but the country has struggled to keep up with the pace of arrivals.
The conflict has also regularly spilled over into Lebanon, and raised tensions between Sunni residents, who largely back the Syrian uprising, and Shiite Lebanese, who support the Syrian regime.
Officials have also warned of the security consequences of the influx, and a shortfall in funding to assist both refugees and the people hosting them.
The UN has received only 26 percent of the $1.6 billion needed to adequately fund their response plan for the region, Kelley told reporters at a press conference.
The UN Development Program's Luca Renda also warned of a range of problems in communities in Lebanon that are hosting refugees. "Competition for jobs, crowding of services, scarcity of drinking water, pressure on waste collection, issues of sanitation (and) increasing tensions between communities," he said.
Renda reiterated calls for support, citing Lebanon's "extraordinary solidarity… We should not let Lebanon carry this responsibility by itself".
AFP